Have you ever considered bringing a senior dog into your home? Here are ten good reasons why this might be a good idea for you.
1. Older dogs are housetrained.

2. Older dogs are not teething puppies, and won't chew your shoes and furniture while growing up.

3. Older dogs can focus well because they've mellowed. Therefore, they learn quickly.

4. Older dogs have learned what "no" means. If they hadn't learned it, they wouldn't have gotten to be "older" dogs.

5. Older dogs settle in easily, because they've learned what it takes to get along with others and become part of a pack.

6. Older dogs are good at giving love, once they get into their new, loving home. They are grateful for the second chance they've been given.

7. What You See Is What You Get: Unlike puppies, older dogs have grown into their shape and personality. Puppies can grow up to be quite different from what they seemed at first.

8. Older dogs are instant companions -- ready for hiking, car trips, and other things you like to do.

9. Older dogs leave you time for yourself, because they don't make the kinds of demands on your time and attention that puppies and young dogs do.

10. Older dogs let you get a good night's sleep because they're accustomed to human schedules and don't need nighttime feedings, comforting, or bathroom breaks.

Meet Samson, a large black three legged dog. This amazing guy has to be either the luckiest or smartest guy in Central Arkansas. He had everything going against him and yet somehow managed to survive a brutal shooting and find his way to one of the few people on the planet who would have been willing and able to help him.
---

Standing Ovation.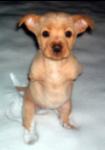 A true story of an amazing biped dog called Faith and her family.