Faith, who suffers from a birth defect, became a member of the Stringfellow family of Oklahoma City when she was just a three -week old puppy. Puppies like Faith are rarely rescued and given a chance, but the Stringfellow family are remarkable in their own right. From the moment they first set eyes on Faith they were ready and willing to put in the time, effort, and expense to care for her.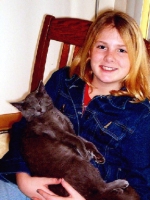 "We taught her to stand up in the snow. When she did, her legs got stronger and she just ran across and started walking," said guardian, Laura Stringfellow.
Teaching Faith to stand upright wasn't the only challenge faced by Faith and her family. Because Faith's front legs were mere vestiges of what they should have been, they began to atrophy and die. Faith had to undergo surgery to remove them.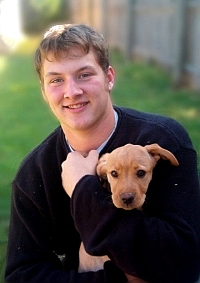 Jude Stringfellow reports, "Faith went to the doctor today. He is really very kind to her. She has extra skin over her back and neck, and it is producing fluid into the area where her leg used to be. Her shoulder is producing some of the fluid as well. He drained it, it was not infectious, so he just wrapped it tightly with a really cute stretch gauze and told her not to pull it off...again. She doesn't like it, but it needs to put pressure on the area. She is balancing better this week than she did last week, so we assume she will be up and running as they say, in no time."
Faith has become quite a celebrity in recent months and was scheduled to appear on the Today Show. Unfortunately, the appearance was cancelled due to the blackout in New York City.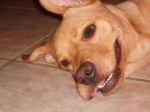 Faith is also a Big Dog, representing Big Dog Sports in Santa Barbara, California. Says Jude: "She has been given special treatment due to her celebrity status. They are going to let her run with the pack in the Spring!"
Shown below are three more members of Faith's family. Ean, Nova, and Matrix.