Dog TailsNews and quirky tails about dogs from all over the world.

• Witchcraft blamed after dog 'gave birth to
kittens'

A dog is reported to have given birth to three kittens in South Africa where locals believe witchcraft is to blame.
The dog, Vodi, was found nursing the kittens at Winterveld, near Pretoria, and residents believe she gave birth to them.
Elijah Mhlanga, Vodi's owner, said her behaviour changed after she disappeared a while ago.
"I was worried when she disappeared. When she came back last Sunday, she was different. She hid from us and stopped barking. She also refused to eat," he told the Daily Sun.
"On Monday my grandchildren called me and said Vodi had given birth to kittens. I did not believe them. I thought the puppies just looked like kittens to them."
Mr Mhlanga decided to go and see for himself and was shocked to find Vodi nursing three kittens which she tried to hide under her belly when people came to look.
Animal welfare officer Meshack Matlou said he had never seen anything like it: "We will do some tests and the results will tell us what happened," he said.

April, 2003
---
• Crufts winner accused of having 'facelift'
The winner of Crufts could lose his title for allegedly having a secret "facelift".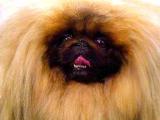 Pekinese Danny beat 22,000 rivals to be crowned supreme champion at the top dog show.
But organisers have been tipped off that Danny underwent an operation last year.
They have launched an official investigation that could result in him being stripped of his title.
Pets who have had their appearance altered in any way are banned from entering Crufts under strict Kennel Club rules.
The regulation can be waived if owners apply in writing and enclose a veterinary report explaining why surgery was needed.
But officials said no such application was received from Danny's owners Bert Easdon and Philip Martin.
A Kennel Club spokesman told The Sun: "Following standard procedure, the office has, therefore, written to the owners to request their comments."
Owners Bert and Philip admit Danny - real name Dangerous Liaison - did have an operation on his throat last June.
But they insist it was purely to correct a breathing problem and in no way altered Danny's looks. The pair, who run a Glasgow hotel, put the problem down to jealousy from rivals.

April, 2003
---
• Hungry dogs find 2,500-year-old mummy
Two dogs digging for a buried bone in their owner's backyard in Chile found a 2,500-year-old mummy.
Ivan Paredes, who lives in Arica, could not believe his eyes when his dogs dug up the ancient body.
He told La Cuarta online: "The dogs were trying to find bones buried in the backyard as usual, but they started to bark very loud and I came to check what was going on and found the mummy of child."
Archaeologists believe it is the remains of a boy buried by his parents who would probably have been farmers.
The mummy, said to be in good condition, is being transferred to the San Miguel de Azapa museum.
Archaeologists believe Mr Parades's backyard could be an ancient burial site and want to excavate it.
April, 2003
---
• Pet who gives owner reason to live is
crowned top dog
A Siberian husky who helped save his owner's life by helping her overcome anorexia has been crowned the UK's top dog.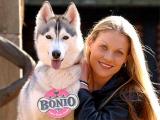 Michelle Smart, 23, weighed just four stone last year and had been given less than three months to live.
But, when her parents Pauline, 53, and Stuart, 51, gave her Rio, the dog of her dreams, she started to battle her way back to health.
Gaby Roslin handed the trophy £1,000 prize money to a tearful Miss Smart at the Golden Bonio Awards 2003 in London.
Miss Smart, a nursery nurse from Uttoxeter, Staffordshire, said: "I had been in hospital and they told me I had only got three months and I wasn't bothered.
"I had always wanted a Siberian husky as a child and I was really pleased and excited but they said I had to try and gain the weight, that was part of the deal.
"It was hard because I had to wait while she was eight weeks old but as soon as we got her home I thought she has so much energy I had to get out because I hadn't gone out before."
During a setback last year, Miss Smart said Rio had also stopped eating.
"She lost a lot of weight and it made me realise what I was doing. The worry I was having over her was what my parents were going through."
Rio beat 11 finalists, who will each receive £250 and a year's supply of dog biscuits.
April, 2003
---