:: Hot Links


Dog TailsNews and quirky tails about dogs from all over the world.

• Standing Ovation

Sometimes you run across stories that leave you scratching your head. Well, we have just such a tale, one you might just have to see to believe. And, it's all about an Oklahoma City dog. But this is no ordinary dog.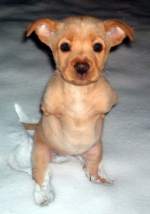 A mongrel called Faith whose front legs never developed properly, has learnt to walk upright like a human.

Laura Stringfellow who lives in Oklahoma City, got Faith when she was a three-week-old puppy.

"We taught her to stand up in the snow. When she did, her legs got stronger and she just ran across and started walking," she said.
"She eats a lot and she plays. She's really spoiled," said her owner, Laura Stringfellow.

Faith is still a pup at just seven-months-old, but can chase cats with the best of them, added her owner.
June, 2003
---
• Dog saves woman from falling tree
A dog owner has been saved from walking under a falling tree when her pet warned her to stay away.
Valerie Smith, 61, was walking her nine-year-old collie Tommy along a public footpath near her Plymouth home when the animal suddenly stopped dead.
Mrs Smith, who is partially deaf, said: "He stopped and just stared at the trees. As I stepped forward he turned and barked at me, which he never normally does.
"I went to walk on again and he really turned, baring his teeth. He stood still again as if to say: 'Stay there'."
Just seconds later a large tree crashed down on to the path, so close to Mrs Smith that it scratched her right arm.
She said: "I was just so shocked to see the tree, which was about five metres long. It was covered in ivy and you could see the bottom half was rotten.
"Tommy could obviously hear it - he knew it was coming down."
Mrs Smith said she and Tommy, who came from a dogs' home, are now inseparable.
"I rely on him now. I think what he did was absolutely amazing," she said.
June, 2003
• Doga Yoga for dogs
Sometimes New York City dog owners who worry that their furry friends need some stress management have a new option: yoga for dogs
.
"Ruff Yoga" -- a so-called doga class aimed at relaxing the canine denizens of this often un-Zen city -- is being offered once a month in a downtown city park.
Half an hour on the yoga mat makes Isaac, her cocker spaniel, a calmer dog, said doga devotee Sarah Klein.
"Usually when he's in the park, he can't focus," said Klein, who was among nine New Yorkers and their dogs who attended a class on Thursday night.
First there was a short inspirational reading about dogs and a moment of "OM-ing." Then the women, following a yoga instructor, took their dogs through traditional poses, starting, without a trace of irony, by forming the furry bodies into the inverted V of the "downward dog" pose.
Then they bent over the dogs and curled their best friends into "child's pose," renamed "puppy's pose."
As a crowd of onlookers grew, the women stretched their dogs -- all of them on the small side -- to the left and the right and lifted them in their arms like furry weights. From time to time, they paused to pull the wandering dogs back to their mats and shush their barks.
"Give him a little love," yoga instructor Suzi Teitelman, 31, told her students. "Come forward, give him a kiss," Teitelman instructed as she leaned over her own spaniel, 2-year-old Coaly.
The class, sponsored by national fitness chain Crunch, grew out of Coaly climbing on her owner's yoga mat at home, Teitelman said. "Yoga came from the animals. It's natural instinct," she said.
Three women left the lesson with their dogs after several minutes, but those who stayed said it was worth it.
"I feel more relaxed and I think she does too," 24-year-old Tracy Alfajora said of Tallula, an 8-month-old, 3-pound Yorkshire terrier who had just finished her first class.
Yoga for dogs, sometimes called doga, has taken hold with pet lovers beyond New York.
Due on bookshelves in September is "Doga: Yoga for Dogs" from Chronicle Books. The book, based on the fact that some of yoga's best known positions are based on the movements of dogs, has tips on practicing yoga with your dog.
And yoga guru Bruce Van Horn is studying the physiological effect of yoga on dogs at a New Jersey animal shelter. Using stress reduction techniques like breathing exercises, he aims to calm the dogs and help them be adopted.
Van Horn, whose book "Yoga for Pets and the People who Love Them" also is due in the fall, says he has noticed results with his own dog. "It's a healing thing," he said.

June, 2003
---