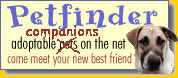 :: News and Features


June 7, 2003
Five pups, five toes, and the 5th of May. Congratulations to Cinco and his family.

read more
:: Hot Links



Get involved.

DogsOnly Rescue needs your help. There is a special need for foster homes, case workers, and event coordinators. Click here to contact the Volunteer Coordinator or click the link below to read more about the various programs available to volunteers.

:: Support

DogsOnly has applied for 501(c)(3) Non-Profit Organization and the dogs we rescue and re-home need your support. Every member of DogsOnly is a volunteer, so you can be assured that every penny you donate goes to the welfare and support of the dogs.

IMPORTANT NOTE.
DogsOnly Rescue will not be accepting any donations through our website until we have completed and qualified as a 501(c)(3) Non-Profit Organization.

Cinco's Story

Five pups, five toes, and the 5th of April. Congratulations to Cinco and his family.

Congratulations to Cinco and his new family. Cinco's story is not unlike that of many other rescue dogs, although Cinco was one of the luckier to find a home. Let me explain why.

You usually don't go to Wal-Mart for a pet, but Cinco and his siblings were the exception to the rule.

This past March, one of the IDR volunteers was showing a couple of young dogs at a local and as it turns out had enjoyed a very successful day indeed. Both of her dogs were adopted, and our intrepid volunteer was happily packing up to go home, when suddenly her dog free evening was snatched away.

One of the problems with being a dog rescue volunteer is that as soon as you feel as though you've been successful, along come more dogs needing help. It never fails, only this time the new arrival couldn't wait even one day.

Cinco was introduced to the IDR volunteer as she was stowing her dog pen and other necessary items for a showing. It was explained that Cinco was one of five survivors from a litter of ten border collies, and the last to need a home. The other four had been handed out that very same day as 'free puppies' to shoppers at Walmart in Bryant. One of the lookers had even recognized the pups from Ferndale and stated that there had been 10 and 5 were killed. The young couple that brought Cinco to stated that no one had wanted Cinco, they tried the Humane Society who turned them away due to a Parvo outbreak and referred them to the store. They wanted to keep him but were unable to and stated they would have to release him back to the wild, only this time he would be alone and not with his 4 siblings. Cinco was the lucky one, let me explain why.

I don't want to necessarily imply that the people who adopted Cinco's brothers and sisters were bad owners, but handing out dogs for free in a Wal-Mart parking lot is a recipe for disaster.

First of all, offering puppies for free makes it so much easier for people to fall prey to an impulse to adopt without considering the long-term implications. Puppies are cute and cuddly, but they are going to grow and change into big dogs. All too often these poor animals end up untrained, unloved, and chained outside or back on the streets again. Read the article on this site called

The Life and Death of an Untrained Dog.

Secondly, these animals have not been screened for health problems, and they may be unwittingly transmitting disease to other pets at their new home. Your great deal may just have cost you hundreds of dollars in medical bills. This is why rescue dogs are always screened prior to adoption. They have, at a minimum, received their first round of shots, dewormer, frontline for leas and ticks and Ivermectin for heartworms.

Please be careful about accepting free dogs no matter how touched you are by their plight. The best thing you can do is to have the owners' contact one of the many local rescue groups or Animal Services Departments for help. We can help with low cost vaccinations, dewormer and ivermectin. We also offer showing dates for people who want to find the best home for their dog. We will provide copies of applications and contracts for your use or modification.

So why is Cinco lucky? Because he immediately received the proper and necessary vet care he needed for his age. His new adoptive family family was screened out of about 20 applications to ensure his family understood his breed and his growing needs as he grows into an adult. As far as his name, Cinco is polydactile. This means he has an extra toe and it is on his front left paw. When the volunteer was driving Cinco home from , she noticed his little extra toe, it was the 5th of April and he was the fifth pup left needing a home. The name must have been right, that night they went out to eat at a Mexican restaurant and they celebrated Fiesta Del Cinco! Five must be his lucky number :0)

---

Back
• , Little Rock
12801 across from Target and Home Depot.

Adoption showing every Saturday and Sunday from Noon till 6:00
---
:: About Adopting
You've been thinking about welcoming a dog companion into your home for quite a while. Then, one day, everything is in place. Your heart opens all the way, and you know that it's time.
---

---
:: Be a Foster

Every day dozens of dogs are put to death in Arkansas
because there are not enough foster homes. Your care and support as a foster is urgently needed.
---
:: Spotlight Sponsor


Please show your support for rescue efforts in our community. Your company name will appear here along with a link to a dedicated page.

read more