Huddled beneath his sister, Taffy was not in the best of moods when this picture was taken down at Little Rock Animal Services, but who could blame him! Shortly after the photo was taken, his sister was adopted and then Taffy was left all alone in a sea of crying, upset, and frightened canine companions at the shelter. But, you never know when things will take a turn for the better, and just as things must have looked pretty bleak from Taffy's point of view, he was spotted by a volunteer from DogsOnly who knows a really good canine companion when she see's one. Lucky Taffy is now one happy member of the DogsOnly Rescue, Rebab, and Rehome program in Central Arkansas. From here on out, ol' Taf' will be getting everything his little heart desires, including the nasty tasting heartworm preventative, and one or two of the more invasive tests that the vet will be performing on him, but hey!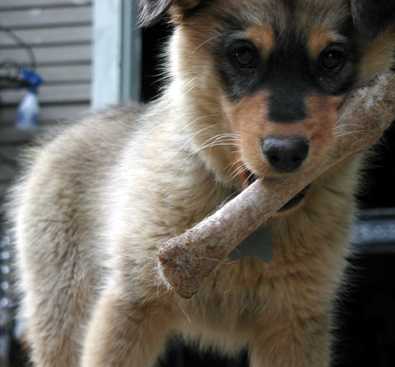 As soon as things settle down for Taffy, we'll get a few more photos of him with his new pals at DogsOnly so you can see how happy and friendly he really is. If you would like to meet Taffy and get a cuddle you can visit him at a DogsOnly adoption showing at Petco in West Little Rock on Chenal Parkway across from Target and Home Depot every Saturday and Sunday from 1-4. If you think there is a place in your home and family for this survivor you can click the links at the top or bottom of this page to complete an online adoption application or send an email to Contact@DogsOnly.org.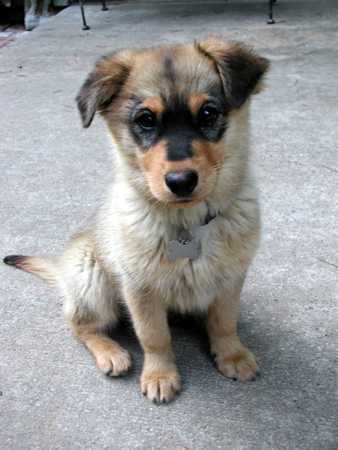 A fee applies to Taffy's adoption but it covers his vet care to include alter, all shots, rabies, fecal and worming medication, flea/tick preventative, heartworm preventative, micro-chipping, grooming and payment of up to 50% towards basic training classes.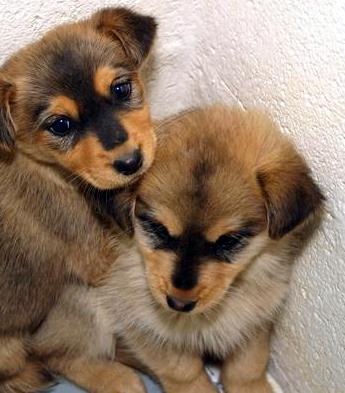 Taffy (right) and his sister in the kill shelter.
Please remember that as beautiful and cuddly as Taffy is at the moment, he will grow into large dog in no time at all. You should also be prepared for the usual trial of rearing a young puppy including the chewing, crying, potty training, and constant demands. For this reason we would prefer that Taffy's new guardians have experience with young puppies and understand their special needs. Remember, just like kids, they grow up real fast.
PLEASE NOTE: ALL ADOPTIONS REQUIRE SECURE FENCING. THIS DOG IS NOT TRAINED AS A WORKING LIVESTOCK GUARDIAN DOG. COMPANION HOMES ONLY PLEASE.