Have you ever met someone who seems to have a handle on life, someone who just simply gets it? The nice thing about being around one of these rare and remarkable individuals is that some of their mojo rubs off on you. Lucy the lab is one of those rare individuals who get it! Her guardian describes her as a good natured girl, which, if you think about it, says a lot about who she is; she's a natural! After all, when your favorite things to do include eating, and then licking your human friends while sitting on them, you'd have to be giving off some positive vibs to get away with it. This big mature girl is extremely affectionate, playful, but not hyper. Perhaps it wouldn't be quite fair to call her lazy, but rather she's best described as a peaceful friend who comes to life in the company of good humans. Gone are the days when Lucy would chase after a ball or Frisbee like a Union Pacific Labrador, these days Lucy is more prone to bubble over with affectionate play. Swimming is cool, but she'd rather just laze about in the water with her human friends.
Lucy is a head turning jet black beauty of a pure Labrador Retriever. She is in excellent health and has a complete set of medical records at her vet's clinic. Lucy is an independent rescue supported by DogsOnly. If you would like to learn more about her you can contact her guardian at BennettSandraL@uams.edu or click the links at the top or bottom of this page to complete an online adoption application. Your request will be sent on to her guardian who will make direct contact with you.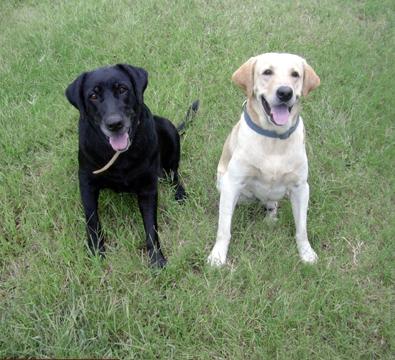 Lucy (left) with friend Alex who is also available for adoption.