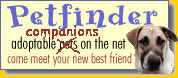 :: News and Features


May, 2003
Who bit BetaDog?
Lela gives BetaDog a lesson in dog handling.

June 7, 2003
Five pups, five toes, and the 5th of May. Congratulations to Cinco and his family.

May, 2003
River Market Raid.
An Independant Dog Rescue 'swat team' draws crowds.
:: Hot Links

:: Volunteers needed


Get involved. DogsOnly Rescue needs your help. There is a special need for foster homes, case workers, and event coordinators. Click here to contact the Volunteer Coordinator or click the link below to read more about the various programs available to volunteers.

:: Support

DogsOnly has applied for 501(c)(3) Non-Profit Organization and the dogs we rescue and re-home need your support. Every member of DogsOnly is a volunteer, so you can be assured that every penny you donate goes to the welfare and support of the dogs.

IMPORTANT NOTE.
DogsOnly Rescue will not be accepting any donations through our website until we have completed and qualified as a 501(c)(3) Non-Profit Organization.



Record Rescue• A litter of nine young pups were rescued from the south Little Rock area in late May, and have already been placed in permanent homes. In a makeshift clinic the Little Rock Nine were treated for worms, given their first round of shots, and given their first cuddles.
When the call came in that nine young puppies had been born to an abandoned mother in the wilds of

south Little Rock no-one was smiling, and the area where the pups were discovered was deep in the countryside where it would be difficult to catch them. If you've ever crawled through flea and tick infested undergrowth to try to catch a litter of frightened puppies, you'll know what I mean. This is not fun!
The puppies were having the least fun of all, and were in urgent need of help. All of the nine were infested with ticks, and there were concerns about intestinal parasites and other possible diseases. After crawling through the undergrowth for thirty or so minutes, the pups were finally rounded up and corralled into a pen.
Volunteers from Independent Dog Rescue had arrived on the scene armed with shots and de-
worming medicine, and the pitiful little pups were unceremoniously treated in a makeshift clinic deep in the woods. Each one, in turn, was given their shot, de-wormed, and groomed, as much as was possible at the time, for ticks and fleas. There was a good deal of whimpering that evening, but as each pup was released back to the security of it's mother and a good hearty feed, the tails started wagging again.
That was just the beginning of a great adventure for each of those little guys, and a great deal of work and patience from everyone involved still lay ahead before they would finally be safe in the caring hands of new homes. For several weeks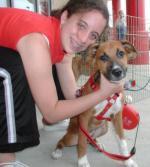 the volunteers from Independent Dog Rescue would return to groom, feed, and medicate the nine little puppies, chasing them around in circles to catch them for their treatments, but every time they did, the whimpering and chasing grew less and less as the pups slowly started trusting their two legged benefactors.
The Nine, as they came to be known, were soon ready for the first of many trips away from their mother and out of the woods to be presented at adoption showings in Little Rock. At first, the pups would cry and huddle together into a ball of shivering fluff, but it didn't take them long to discover the joy of being cuddled and loved on by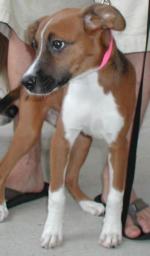 the many visitors to the showing. If you every happen upon an adoption showing, remember that even if you are unable to adopt a dog, you can still help by visiting the dogs and showing them some kindness and attention. Many of these rescue dogs have been abandoned and abused, and they need the patience and caring attention of people so that they can become socialized and to learn how to trust. There is always something you can do to help, and your kindness is ALWAYS welcome and needed.
The adoption process is usually a long and challenging process for dogs and their humans alike. Repeated showings in front of noisy crowds, long days standing outside of the pet store, endless trips to the closest patch of grass for bathroom breaks, but eventually the patience pays off as the puppies and their new families finally meet and begin their new life together.

It took a lot of effort from a lot of people to overcome the suffering of those little puppies; their foster who, every day and night, would watch over them and feed them, the volunteers at Independent dog rescue who were eaten alive by mosquitoes in woods, the many visitors to the showing who were kind enough to spend a little time with the puppies, and of course the families who showed the greatest love of all by adopting the puppies into their new homes.
The pups and their new families have all been back to visit the volunteers on several occasions, and what a fine litter they have turned out to be. If you are ever in doubt about whether to adopt a rescue dog or buy from a dealer, ask the family of a rescue dog about just how special these wonderful guys really are. Oh, and while you're at it, don't forget to thank them and let them know how special they are too.