Please note that Kramer is an independent rescue effort supported by DogsOnly.
Kramer is a 10-year-old Pyrenees mix. He's a sweet guy and has a personality much like Disney's Eeyore: "Thanks for noticing me." He's recovering nicely after many years of being neglected. He gets along well with kids, cats, and other dogs. He loves attention and will nudge someone with his head to get his chin scratched. Kramer is housebroken and loves to spend his "retirement years" curled up on the couch or asleep next to the bed at night. Kramer has a flea allergy, so it will be necessary to keep him on flea treatments like Frontline to avoid any skin conditions. Kramer really enjoys going for walks, and he loves to get treats.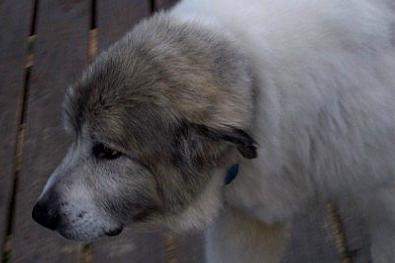 If you would like more information about Kramer please click the links at the top or bottom of this page to complete an online adoption application or send an email to contact@dogsonly.org.
PLEASE NOTE: ALL ADOPTIONS REQUIRE SECURE FENCING. THIS DOG IS NOT TRAINED AS A WORKING LIVESTOCK GUARDIAN DOG. COMPANION HOMES ONLY PLEASE.