Mojo was originally rescued in October, 2008. This is dedicated to Mojo now known as Jas and his adoptive family, who saw beyond his limitations and recognized his possibilities.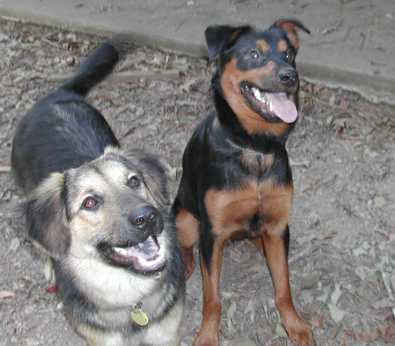 Perhaps for the first time in his life Mojo happened to be in the right place at the right time, Mojo was hungrily scavenging about some trash cans for food when he was spotted by a DogsOnly volunteer who just happened to be passing by. It was clear that Mojo had been living like this for some time. He was carefully sniffing each trash can, bag, and box for any sign of a tasty morsel. Unnoticed, Mojo's observer was hoping that he would return to his home, but it soon became clear that Mojo had no home.
After he had finished searching for dinner in the trash cans Mojo ran off down the road, but he was staggering in and out of traffic at a very busy 8 lane intersection. Mojo was scared and rightfully so. Afraid that Mojo would be hurt, the DogsOnly volunteer started waving the traffic down, and after calling to him gently and offering kind words of comfort, Mojo gave in and and climbed into the safety of his rescuer's car.
It seems Mojo had suffered from a devastating head injury. He was bilaterally deaf, blind in one eye and had a laceration to his throat that ran from ear to ear. It's likely that Mojo had been tied to a tree with an extension cord or wire, which cut right through his neck. Somehow Mojo survived and escaped his tether, but then suffered a severe head injury which blew out one of his eyes and left him totally deaf. He also could not walk normally and had trouble eating and drinking because his coordination was so disturbed. Mojo was unable to walk a straight line but he could walk in circles and with patience he was able to get to his destination.
It's a miracle that Mojo was able to survive on the streets in this condition but somehow he managed. After Mojo was rescued, it seemed clear that his injuries were so severe he would most likely never be adopted. It was thought that Mojo would become the first sanctuary dog at Dogsonly. Dogsonly is a rescue and not a sanctuary. Sanctuaries keep dogs for their lifetime whereas rescues temporarily house dogs until a permanent home is found. It was not believed that anyone would be willing to adopt Mojo with all his special needs.
Mojo went to the vet for probably the first time in his life. He was diagnosed and treated for all his maladies and then back to his foster home he went. Poor ol' Mojo had to have several surgeries to his neck to repair the tissue and help it to close and permanently heal. He had to have a considerable amount of skin and tissue removed because it was necrotic, and so he was unable to hold his head up straight for some time. It would have to heal and be stretched back out so he could have normal rotation again.
Despite his suffering and infirmities, Mojo remained happy, positive, and friendly. He made friends with all of the other dogs in his foster home, and everyone he met. Undaunted, Mojo didn't let the pain and his injuries stop him from making the most of life. It was as if he knew he had a chance, and he knew that he could make a good life for himself. In no time at all, Mojo had won everyone's heart. Suddenly everyone began to believe that Mojo was special, and that almost anything was possible. A magical transformation had quietly taken place, and now it was Mojo who was making a difference in the lives of others.
Eventually, while Mojo was still healing and recovering, a family learned of him on the DogsOnly website, and expressed interest in meeting him. In other cases like Mojo's, it wouldn't have been realistic to think that any family would be willing and able to deal with all his needs, but Mojo had made believers out of everyone in his foster home. Mojo hadn't given in, so neither should his rescuers. No opportunity would be turned away.
Mojos' first meeting was not the most graceful. He was so excited when he met the children he pulled the little girls pretty hair bows from her hair and put muddy prints all over the little boy while giving him kisses. Mojo would get excited, bark, and flip over on his back. He couldn't help it, his brain injury had left him with this peculiar effect.
Unbelievably, the family still wanted to take him home for a visit. Incredibly Mojo's new family was tailor made just for him. It turns out that his adoptive Dad is specially trained with a Master's degree to help people recover who have suffered from head injuries. His adoptive Mom is a teacher for the hearing impaired. How cool is that? A family who could understand Mojo and meet his needs? A family who would be able to work with Mojo and help him improve beyond his physical healing and help him heal and learn to communicate? It just goes to prove that you should never give up. Anything is possible when you ignore the negatives, and focus on the positives.
Mojo is now learning sign language and so despite being deaf, he is now able to respond to his owners' commands with sign language. His adoptive Dad is working with Mojo to help him recover from his head injuries and make the most of his abilities.
This is dedicated to Mojo, now known as Jas, and his adoptive family who saw his life was worth saving and not something to be thrown away. Jas, formally Mojo, is an inspiring example of what is possible with love, patience and perseverance. Happy Holidays to Jas and his adoptive family. It is families like this that make dog rescue possible.
If you have adopted a Dogsonly dog and would like to be featured, please send us an email at Contact@dogsonly.org with an updated bio and pictures. We will feature a Dogsonly dog each month.
DogsOnly relies solely on donations and is a 501(c)3 Humane Society. Our mission is to rescue dogs that most other groups are not interested in due to their size, breed, age, health or other various reasons, and to provide education resources for dog owners and those with an interest in the wellbeing of dogs. DogsOnly believes that no dog should be left behind.
All of our foster homes work with our rescues to ensure they are crate trained and most are also housetrained. None of our foster homes have cats, so we can only make our best guess as to how our rescues would do with cats.
Thank you for your interest in rescue and in saving the life of a dog. Every day in the United States, 11,000 dogs die.
Why Buy When You Can Save?
Save a Rescued Dog.
If you don't find that special companion you are looking for in the DogsOnly rescue, rehabilitation, and re-home program then please visit Little Rock Animal Services, North Little Rock Animal Services, Sherwood Humane Animal Services, or one of the many other central Arkansas rescue organizations to save a rescued canine companion.