Forall is about a 1 year old Black Lab mix. Forall was one of the dogs who was rescued from the notorious C.C. Baird Martin Creek Kennels and Patsy's "Pat's Pine Tree Farms" after Baird, Patsy Baird, Jeannette Baird, and Patricia Baird, their agents and employees, successors and assigns, directly or through any corporate or other device, were ordered to cease and desist from violating the Animal Welfare Act and the Regulations and Standards and had to pay the largest penalty in history of $250,000 plus another $250,000 if Baird or his family attempt to be involved with dogs/cats. Baird sold these dogs to research labs all over the United States. Almost all teaching Universities like UAMS in Little Rock use animals in research projects. Some of the dealers are called Class B dealers and have "random source" dogs. Legally, a random source dog is supposed to only be sold by an individual who breeds and is the actually the owner of the dog. Unfortunately, most of these dogs are "Free to Good Home" dogs in the paper, strays and some are actually stolen family pets out of their own backyard.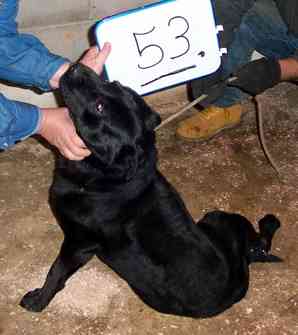 A scared and hungry Forall during his registration by the USDA at the Baird place.
We have no idea where Forall came from, who previously owned him or what kind of life he has had. He is a young Lab mix, about 1 year old, sweet and friendly and was saved from being a research lab animal. Once you pet Forall, he is stuck to you like glue. He loves attention and is so sweet and loving. He has been very dog friendly but has met a few dogs he didn't care for. Forall just licks and licks you so he is considered a somewhat needy dog and would need to be adopted by some one who wants a needy, loving dog. He is not real independent although he might become more so after learning how to live outside of the compound where he has been for some time.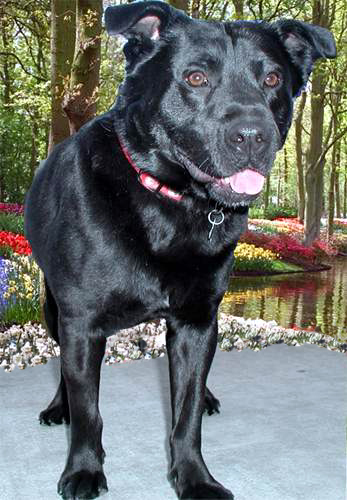 Look at me now!
Thousands upon thousands of dogs passed through CC Baird's property in Williford, Arkansas, but thanks to the efforts of Last Chance for Animals and the USDA that will not happen any more. There are only 4 Class B dealers left in the US. Efforts are being made to change the laws to make it illegal to use "random source" animals. You can read more about this on the DogsOnly World Wide Woof message board and the article "No Free to Good Homes". Forall's story will hopefully help educate the public about why it is important to microchip your dog and never give dogs away for free, ever! You can come and meet Forall at the WLR Petco every Sat and Sun on Chenal Parkway across from Target and Home Depot. We will be there from 1-5. Forall's adoption fee is $75 and covers all of her vetcare to include spay, rabies, heartworm test and preventative, microchipping and payment of 50% of basic training classes.
And quite by chance we discovered that at DogsOnly, Forall formally Number 53's ID tag is No. 1