:: Adoption News

Other Rescue Groups
Other rescue groups and shelters are listed here so that you may have access to as many of the dogs available for adoption in Arkansas as possible.

About Adopting
Click here to read about what you should expect and how to prepare for adopting a puppy
:: Hot Links
:: Volunteers Needed

Get involved.
DogsOnly Rescue needs your help. There is a special need for foster homes, case workers, and event coordinators. Click here to contact the Volunteer Coordinator or click the link below to read more about the various programs available to volunteers.
:: Don't Buy That Puppy in
the Window.

Ten reasons not to buy your puppy from a pet shop by Cathrine M. Sheeter.

And They Lived Happily Ever After
---
• Featured Friends
The Little Rock Nine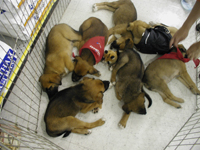 Meet the Little Rock Nine.
A litter of nine young pups were rescued from the south Little Rock area in late May 2003, and have already been placed in permanent homes. In a makeshift clinic the Little Rock Nine were treated for worms, given their first round of shots, and given their first cuddles.

---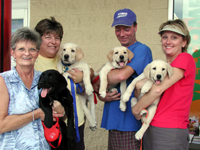 Left to right: Lady, Clyde, Bonnie, and Sugar.
Reunion at Petco in Little Rock
Four of a litter of 8 pups see each other again for the first time in weeks. After some of the usual procedural sniffing high jinx were the order of the day.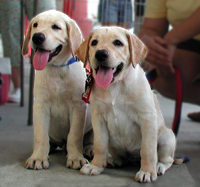 Bonny and Clyde
We're a couple of swells.