Pet Population Control
Holly Nash, DVM, MS
Veterinary Services Department, Drs. Foster & Smith, Inc.
Is pet overpopulation really a problem?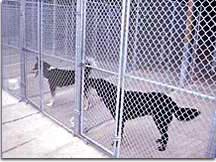 Absolutely! In the United States alone, more than 50,000 puppies and kittens are born
each day
. For every pet with a place he can happily call home, there are 4 companion animals who are homeless, neglected, or abused. Millions of these animals enter America's animal shelters and 30 to 60 percent of them have to be destroyed each year because no one wants them - that is 4 to 6 million animals!
What can I do?
Spay and neuter your dog(s).
Encourage leash laws, which will help keep dogs safe and either at home or with their families.
Educate others about this pet overpopulation problem. People who know the facts can make the right decisions.
Express your thanks to veterinarians who reduce their spay/neuter fees and work with their local shelters to assure only neutered or spayed animals are placed.
I know I can find homes for all the offspring my dog will have when I breed her/him. So, it is fine if I go ahead, right?
In 6 years, one female dog and her offspring can be the source of 67,000 puppies.
Making sure you have homes for all the puppies is a good first step. You also need to be sure the breeding will produce quality puppies. Have the male and female dogs had a medical exam to be sure they are healthy? Are they free of venereal diseases? Are they free from hereditary problems such as hip dysplasia in dogs? Are their vaccinations up-to-date, and have they been wormed? Do you know what food and equipment you will need to give the mother and puppies proper care? Are you ready to pay the extra veterinary costs if there are problems with the pregnancy or delivery? You see, a lot goes into responsible breeding.
© 2001 Drs. Foster & Smith, Inc.
Reprinted as a courtesy and with permission from PetEducation.com
(http://www.PetEducation.com)
On-line store at http://www.DrsFosterSmith.com
Free pet supply catalog: 1-800-323-4208