Please note, this rescue is a National Anatolian Shepherd Rescue Network (NASRN) effort sponsored by DogsOnly. You can visit www.NASRN.org for more information.
UPDATE 09.14.05: Cami is now located safely in a secure foster home.
Rescue had lost contact with Cami's foster family until September 7 because her family had to evacuate the area to escape Hurricane Katrina. Upon return, Cami's foster family discovered they had lost everything and had nowhere to keep Cami.
Cami, a female Anatolian Shepherd companion, is approximately two years. She was found as a stray after someone chopped her tail off. Cami is a very good natured girl, she loves people and will make an excellent family companion and guardian. True to the Anatolian Shepherd nature she will bark to alert you that someone is entering your property. She is good with other dogs, including small dogs and is also good with children. She seems to be housebroken, will walk on lead and knows basic commands. Cami is currently in Ponchatoula, LA.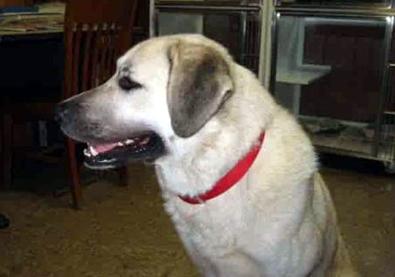 For more information about this rescue you can send an email to Contact@DogsOnly.org or click the links at the top or bottom of this page to complete an online adoption application.