Dexter is a young male Bedlington Terrier/ Labrador Retriever mix who was found in a motel parking lot limping and hungry. Dexter's rescuers drove him home and had Dexter complety vetted and neutered. There are already 5 other dogs in his rescuer's home, and so her rescuer cannot give him the amount of love and attention he needs and deserves.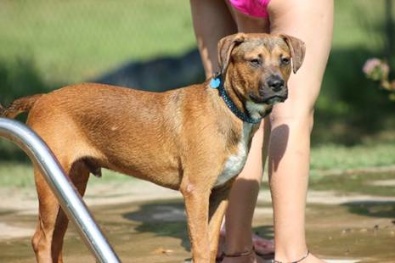 Dexter wants to be in an active home with someone who will play ball with him. He will play ball for hours! He wants to be in the middle of all the family action, loves attention and to be in your lap. He is a very friendly and outgoing dog who loves everyone he meets. His biggest joy in life is to have a tennis ball thrown for him over and over again. If he's not chasing the ball he is walking around with it in his mouth. He is a very loving boy who wants to be in your lap as much as possible. There are three cats in his foster home and he is slightly interested in them but mostly ignores them. He loves playing fetch and running with other dogs in our yard. He loves to be taken on walks, laying in the sunshine and slobbering on his tennis ball.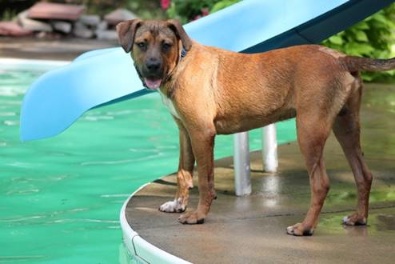 Please don't be tempted to adopt Dexter on an impulse. You should take the time to carefully consider the long term commitment, expense, and passion it takes to give him the home he deserves. Dexter will reward you with unbounded love and devotion, but you must be committed and serious about your decision to bring him into your life. Remember, this is an adoption, not a sale, and we're very serious about making sure that both you and Dexter are a good match for each other.
An adoption feel applies to this adoption. .
Dexter is an independent rescue sponsored by DogsOnly, and Dexter will NOT be available to meet at the DogsOnly adoption showings at the west Little Rock Petco on Chenal Parkway on Saturdays from 1:00 to 4:00.
IMPORTANT - Please remember that Dexter WILL NOT be available to meet at the DogsOnly adoption showing at Petco on Saturday between 1:00 and 4:00 PM. However if you are interested in learning more or meeting Dexter you can send an email to contact@dogsonly.org AND complete an online adoption application by clicking the orange colored inks at the top or bottom of this page.
Email contact is contact@dogsonly.org Due to time restraints, we are not able to accept phone calls but we always try and answer all emails within 24 hours. If you have an interest in adopting Dexter please complete an online adoption application by clicking the orange colored lines at the top or bottom of this page.
We rescue from high kill shelters and once accepted into our program, none of our rescues are euthanized. We provide for all their vet care, socialization and training until an appropriate home can be found. We rely solely on donations and are a 501(c)3 Humane Society.
Thank you for your interest in rescue and in saving the life of a dog. Every day in the United States, 11,000 dogs are euthanized.
Why Buy When You Can Save?
Save a Rescued Dog.

If you don't find that special companion you are looking for in the DogsOnly rescue, rehabilitation, and re-home program then please visit Little Rock Animal Services, North Little Rock Animal Services, Sherwood Humane Animal Services, or one of the many other central Arkansas rescue organizations to save a rescued canine companion.