Grams is a charming large female Great Pyrenees Border Collie mix. Grams was abandoned on a old back road in central Arkansas. Fortunately someone who happened to have experience in rescuing animals spotted Grams, and took her home where Grams could get some food, clean water, and a safe cool place to stay. So while Grams is at least now safe and loved, she needs a wonderful home of her own so that her rescuer and foster can help others in need!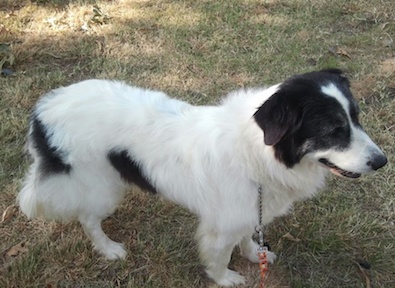 Grams is the type of dog who would fit in almost any kind of home. She is a wonderful calm well mannered girl. Grams is very gentle, even for her size. She is loving and caring, and enjoys being talked to. She'll stare right into eyes for minutes at a time and just watch you or listen to you.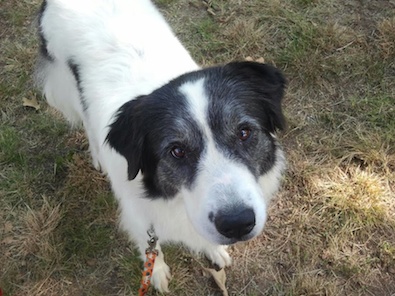 Grams does like to trot around and acts as if she wants to play, but doesn't get too excited. If you are looking for a really active playful dog, then Grams is probably not the companion for you. On the other hand if you are looking for guardian and wonderful companion then Grams could be the one you're looking for!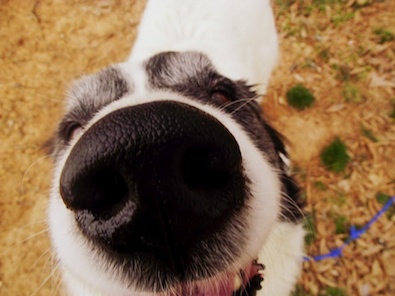 Grams is an independent rescue supported by DogsOnly. She will NOT be available to meet every Saturday except for holiday weekends at the DogsOnly adoption showing at Petco on Chenal Parkway across from Target and Home Depot, but you can learn more about Sophie if you complete an online adoption application by clicking the orange colored links at the top or bottom of this page. You can also contact Grams 's rescuer at sheepskinbordercollies88@gmail.com or through DogsOnly by sending an email to Contact@DogsOnly.org
Please don't be tempted to adopt Grams on an impulse. You should take the time to carefully consider the long term commitment, expense, and passion it takes to give her or her the home she deserves. Grams will reward you with unbounded love and devotion, but you must be committed and serious about your decision to bring her into your life. Remember, this is an adoption, not a sale, and we're very serious about making sure that both you and Grams are a good match for each other.
Grams is an independent adoption effort supported by DogsOnly, but is not part of the DogsOnly adoption program. Your applications and emails will be sent direct to Grams 's owner who will then contact you to answer any questions you might have, and discuss her adoption.
An adoption fee is usually involved which helps to cover the cost of medical care and vaccinations.
DogsOnly relies solely on donations and are a 501(c)3 private Humane Society. Our mission is to rescue dogs that most other groups are not interested in due to their size, breed, age, health or other various reasons. This does not mean that there is something wrong with any of our rescued companions, it just means we try to help the dogs that tend to be left behind.
Thank you for your interest in rescue and in saving the life of a dog. Every day in the United States, 11,000 dogs die
Why Buy When You Can Save?
Save a Rescued Dog.

If you don't find that special companion you are looking for in the DogsOnly rescue, rehabilitation, and re-home program then please visit Little Rock Animal Services, North Little Rock Animal Services, Sherwood Humane Animal Services, or one of the many other central Arkansas rescue organizations to save a rescued canine companion.