Big Boy is an eight year old Mastiff mix who unintentionally got moved to the "low end of the totem pole" as his family grew. Big Boy has lived with his family since he was about a year old, and is an inside dog, housebroken, spayed, and current on all shots and medications. His family simply no longer has the time or resources to give him the attention he needs. The best thing to do for all involved is for Big Boy to find a new family who can give him the love and attention he deserves.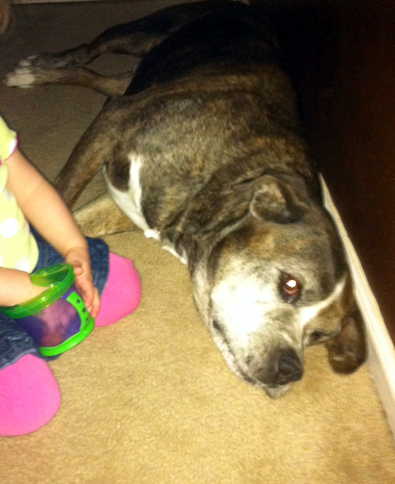 Big Boy is an independent rescue supported by DogsOnly, so he will not be available to meet every Saturday except for holiday weekends at the DogsOnly adoption showing at Petco on Chenal Parkway across from Target and Home Depot.
To learn more about Big Boy you can complete an online adoption application by clicking the orange colored links at the top or bottom of this page. You can also contact Big Boy's foster rescuer through DogsOnly by sending an email to Contact@DogsOnly.org
Please don't be tempted to adopt Big Boy on an impulse. You should take the time to carefully consider the long term commitment, expense, and passion it takes to give him the home that he deserves. He'll reward you with unbounded love and devotion, but you must be committed and serious about your decision to bring him into your life. Remember, this is an adoption, not a sale, and we're very serious about making sure that both you and Big Boy are a good match for each other.
Big Boy is an independent adoption effort supported by DogsOnly, but is not part of the DogsOnly adoption program. Your applications and emails will be sent direct to Big Boy's owner who will then contact you to answer any questions you might have, and discuss his adoption.
An adoption fee is usually involved which helps to cover the cost of medical care and vaccinations.
DogsOnly relies solely on donations and is a 501(c)3 Humane Society. Our mission is to rescue dogs that most other groups are not interested in due to their size, breed, age, health or other various reasons, and to provide education resources for dog owners and those with an interest in the wellbeing of dogs. DogsOnly believes that no dog should be left behind.
Thank you for your interest in rescue and in saving the life of a dog. Every day in the United States, 11,000 dogs die.
Why Buy When You Can Save?
Save a Rescued Dog.
If you don't find that special companion you are looking for in the DogsOnly rescue, rehabilitation, and re-home program then please visit Little Rock Animal Services, North Little Rock Animal Services, Sherwood Humane Animal Services, or one of the many other central Arkansas rescue organizations to save a rescued canine companion.