Gabriella is a sweet and charming German Shepherd who with her 3 remaining puppies were longing for help. Unfortunately by the time that DogsOnly was contacted, most of her puppies had not survived. DogsOnly picked up Gabriella and her remaining pups the day a big snow storm hit Little Rock.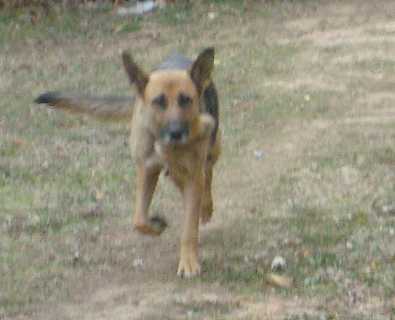 The vet was unsure but he thinks that a deep cut caused a large
abscess on Gabriella's neck that can clearly be seen
in the photo above.
DogsOnly was contacted on the eve of a major snow storm in Little Rock about a stray German Shepherd and her pups. It seems a female German Shepherd was abandoned in an alley in downtown Little Rock a few months back. She was pregnant and soon gave birth to her puppies. We don't know how many puppies Gabriella initially delivered, but we were initially told that there were 4 surviving puppies. By the time a second email advising of their location was received, she was down to 3 puppies. Due to the weather, DogsOnly was very concerned about this situation. There was about 8 inches of snow on the way and sub-freezing temperatures.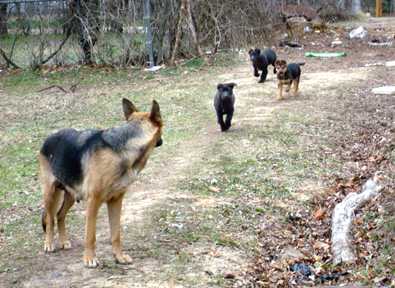 Photo taken the day before the snow storm arrived.
UPDATE & GOOD NEWS!
Gabriella's third little puppy was captured and has rejoined her family safe and sound.
When DogsOnly arrived, the mother, since named Gabriella, was found to have a very large abscess on her neck. Her three pups remained cautiously behind her in the alley watching as the DogsOnly volunteer tried to gently coax them into her car. Gabriella immediately came seeking help and food, and her pups ran to stay with her.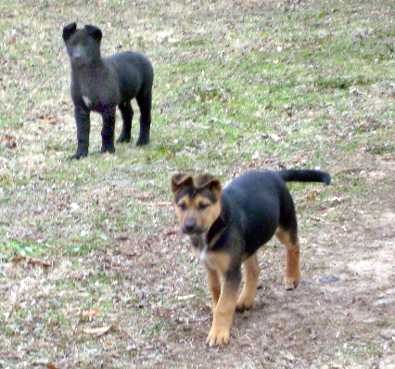 The pups are not as social as their mother, so it would be wonderful if we could find them a foster home, even if just very temporary to help with socializing them. Our only other option may be to place them in specialized boarding which is very costly. Sadly, one little puppy had to be left behind as we could not catch her. We will continue to make trips back to the location to try and capture her. Gabby is currently with 2 of her pups at our vet clinic in boarding. They have all received their vaccinations and started on their worming. Gabby had 2 cups of abscess drained from her neck and now has a bandage on due to a large amount of draining fluid. She was very well behaved and did not object or cause any disruption as the 12 gauge needle was inserted to relieve the pressure. She has been started on Baytril and Keflex daily for the next 14 days.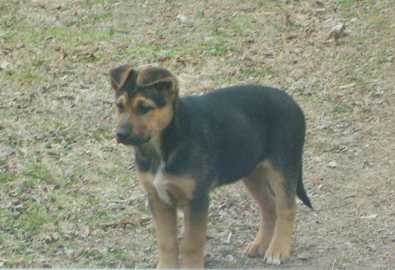 Any amount to help with Gabby and her pups boarding and vet care would be greatly appreciated. DogsOnly does not receive any financial support from any agency. DogsOnly exists purely off private donations as adoption fees do not cover the services provided for our dogs while being prepared for adoption. We have not received any support from the family who requested assistance for Gabby but we could not leave her and her pups, especially with her medical condition, out in the freezing weather where the pups could die.
To learn more about Gabriella or her pups, you can send an email to contact@dogsonly.org or complete an online adoption application by clicking the orange colored text links at the top or bottom of this page. Due to time restraints, we are not able to accept phone calls outside of our regular showing time at Petco on Chenal across from Target and Home Depot on Saturdays from 1:00 to 4:00 (except for holiday weekends) where and when you can meet Gabriella or her pups, but we always try and answer all emails within 24 hours. Please send an email to contact@dogsonly.org BEFORE you come to see Gabriella or the pups to make sure that they are available to meet at the showing and are still available for for adoption. All of our rescues are in private homes and are not available to be visited outside of showing times.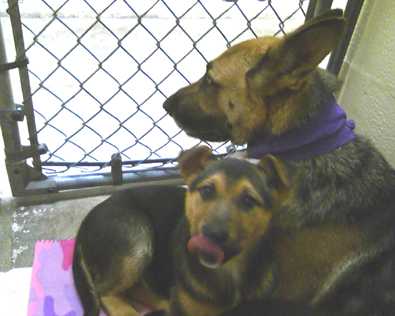 Gabreilla wearing a bandage at the vets with her pups after
the abscess on her neck was drained and cleaned.
Please don't be tempted to adopt Gabriella or one of her pups on an impulse. You should take the time to carefully consider the long term commitment, expense, and passion it takes to give her the home she deserves. She'll reward you with unbounded love and devotion, but you must be committed and serious about your decision to bring her into your life. Remember, this is an adoption, not a sale, and we're very serious about making sure that both you and Gabriella or her pup are a good match for each other.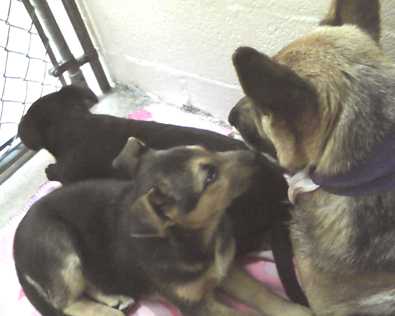 All DogsOnly foster homes work with our rescues to ensure they are crate trained and most are also housetrained. Few of the DogsOnly fosters have cats in their homes so we can only make our best guess as to how our rescues would do with cats. We rescue from high kill shelters and once accepted into our program, none of our rescues are euthanized. We provide for all their vet care, socialization and training until an appropriate home can be found.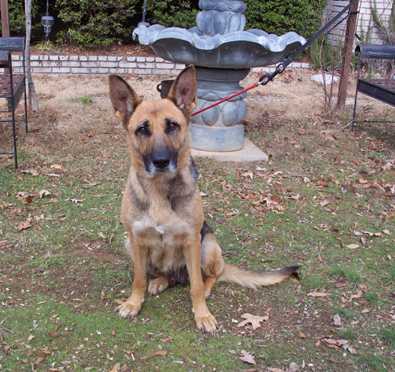 DogsOnly relies solely on donations and is a 501(c)3 Humane Society. Our mission is to rescue dogs that most other groups are not interested in due to their size, breed, age, health or other various reasons, and to provide education resources for dog owners and those with an interest in the wellbeing of dogs. DogsOnly believes that no dog should be left behind.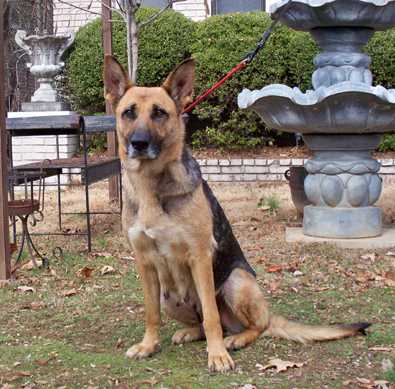 The adoption fee is $125 and covers all necessary vet care to include: spay or neuter (mandatory - no exceptions), rabies, microchipping and registration, all vaccinations (including all puppy shots, rabies, adult boosters and Bordatella), grooming, Frontline for flea/tick preventative, heartworm check if age appropriate and preventative, collar and 50% of basic training classes.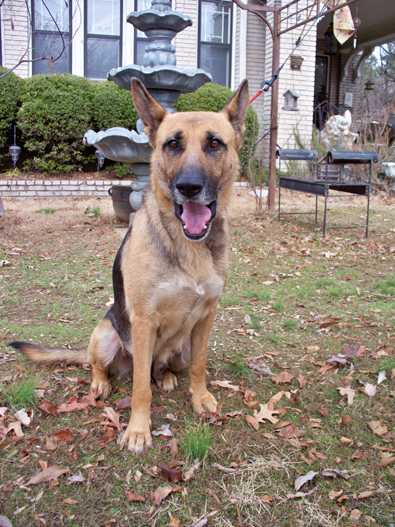 Thank you for your interest in rescue and in saving the life of a dog. Every day in the United States, 11,000 dogs die.
Why Buy When You Can Save?
Save a Rescued Dog.
If you don't find that special companion you are looking for in the DogsOnly rescue, rehabilitation, and re-home program then please visit Little Rock Animal Services, North Little Rock Animal Services, Sherwood Humane Animal Services, or one of the many other central Arkansas rescue organizations to save a rescued canine companion.