Girl is a very sweet and charming Walker Hound who was abandoned in the natural steps area off Hwy 300 in central Arkansas. Fortunately for Girl she happened upon a kind Samaritan who didn't turn his back and leave her behind.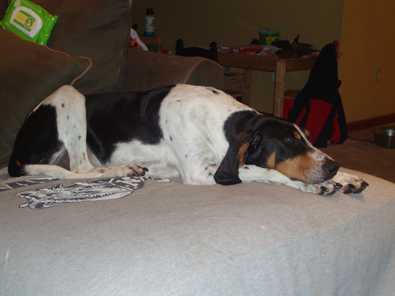 A few kind words were all it took to coax Girl into the safe keeping of her rescuer, and before she knew what was happening she was patiently tolerating a good bath and scrub followed by some good food and a nice cool drink of cool water.
Girl weighs about 40 Lbs and appears to be around 2 to 4 years old. She has a spay scar, and after a visit to DogsOnly she's now up to date on her shots. She's a healthy girl with a fantastic temperament. She is doing very well with the 2 other dogs in her foster home. So far, she's been a good girl indoors and seems to be house trained.
Girl knows a couple of commands, sits very well, and seems to know other commands but chooses not to comply. She will chase critters outdoors, but comes back when she's satisfied. Girl is decent on leash, just needs practice...goes to end of lead but doesn't strain.
Girl has free reign of her foster house at night and sleeps in various spots, ending up on the dog bed in her rescuer's bedroom or on the couch downstairs. She's not food aggressive in anyway, and even seems finicky with food. She will graze throughout the day as her foster family leaves food down for their other dogs.
Girl's rescuer is already able to handle her totally without any resistance or aggression, and was very well behaved when she had her nails clipped, was checked for her spay scar, and administered yucky tasting meds.
Girl is not shy to males or females. She's great in the car, and sat in the back of an SUV with one of her foster families' other dogs and watched happily out the window.
Girl is an independent rescue supported by DogsOnly, so she will not be available to meet every Saturday except for holiday weekends at the DogsOnly adoption showing at Petco on Chenal Parkway across from Target and Home Depot.
You can contact learn more about Girl by sending an email to her rescuer at dahkodah@yahoo.com or contact@dogsonly.org. You are encouraged to submit an online adoption application by clicking the orange colored links at the top or bottom of this page. Your adoption application will be forwarded to Girl's fosters who will contact you directly.
All DogsOnly foster homes work with our rescues to ensure they are crate trained and most are also housetrained. None of the DogsOnly fosters have cats in their homes so we can only make our best guess as to how our rescues would do with cats. We rescue from high kill shelters and once accepted into our program, none of our rescues are euthanized. We provide for all their vet care, socialization and training until an appropriate home can be found.
DogsOnly relies solely on donations and is a 501(c)3 Humane Society. Our mission is to rescue dogs that most other groups are not interested in due to their size, breed, age, health or other various reasons, and to provide education resources for dog owners and those with an interest in the wellbeing of dogs. DogsOnly believes that no dog should be left behind.
All of our foster homes work with our rescues to ensure they are crate trained and most are also housetrained. None of our foster homes have cats, so we can only make our best guess as to how our rescues would do with cats.
Thank you for your interest in rescue and in saving the life of a dog. Every day in the United States, 11,000 dogs die.
Why Buy When You Can Save?
Save a Rescued Dog.
If you don't find that special companion you are looking for in the DogsOnly rescue, rehabilitation, and re-home program then please visit Little Rock Animal Services, North Little Rock Animal Services, Sherwood Humane Animal Services, or one of the many other central Arkansas rescue organizations to save a rescued canine companion.