True is an 18 month old Anatolian Shepherd Great Pyrenees mix who was picked up as a stray and taken to a kill shelter in the Dallas Fort Worth area. True faced a grim fate, and as no one came to claim him, time was running out for True. Lucky for True the National Anatolian Rescue Network (NASRN) heard of his plight and came to the rescue.
NASRN is a nation wide rescue effort, but they don't maintain shelters, and instead rely on regional volunteers and organizations like DogsOnly to help them rescue dogs. True was sprung from the kill shelter, and moved to a boarding kennel. True was safe from harm, but a boarding kennel is not exactly the best place for a dog to find a new family and home, not to mention that the meter was running so it didn't take long for the bills to mount. That's where DogsOnly came into the picture.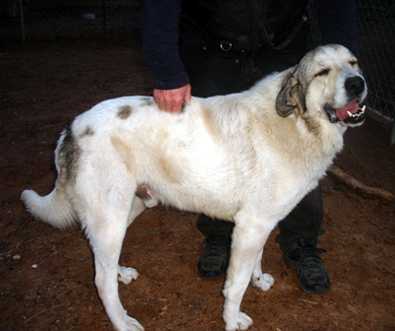 DogsOnly is known to take large breed canine companions, and so True soon found himself on the move again. This time, thanks to the help of volunteers at NASRN who have organized a transport for True, he's on the way to Little Rock where he will be placed in a DogsOnly foster home while we look for a new family and home for this wonderful companion.
True is a rare find of a companion who enjoys the company of people, and especially adores children. True is such a big sweetheart. He is a real gentle giant and a big teddy bear of a dog who weighs 115 pounds. He will make an excellent family dog and family guardian. He loves a good hard ear and belly scratch and will pull at you with his paw for more lovings. When he sees one of his friends coming, True gets all kinds of excited and puts on quite a show of making his visitor feel welcome. He also makes a good listener. It's believed that his birthday is around August 8th, so it would be great if he could share his 2nd birthday with a new family.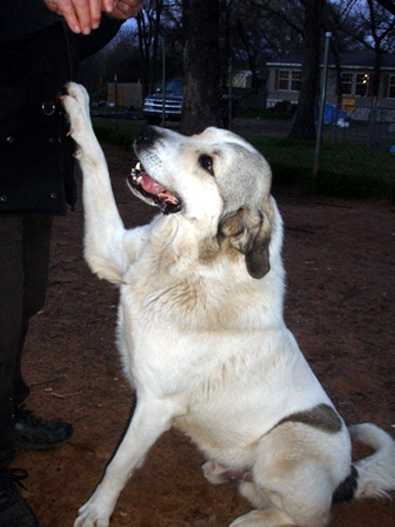 True will be arriving on a transport at the DogsOnly adoption showing at the west Little Rock Petco on Chenal Parkway across from Target and Home Depot on Saturday, April 17th, so you'll be able to meet and greet him at that time and every Saturday thereafter from 1:00 PM to 4:00 PM except holiday weekends. Please be sure and call (501-219-9907) before you come to visit him to make sure that he is still available for adoption.
True has received a complete medical evaluation, all shots, rabies, fecal and worming medication, flea/tick preventative, heartworm preventative, micro-chipping, grooming, and has been altered. If you can give a good ear scratch and belly rub, and love to cuddle and talk, True might make the perfect friend. You are invited to send an email to Contact@DogsOnly.org or complete an online adoption application by clicking the orange colored text links at the top or bottom of this page to learn more about adopting True. True will not be adopted as a working dog.
All DogsOnly foster homes work with our rescues to ensure they are crate trained and most are also housetrained. None of the DogsOnly fosters have cats in their homes so we can only make our best guess as to how our rescues would do with cats. We rescue from high kill shelters and once accepted into our program, none of our rescues are euthanized. We provide for all their vet care, socialization and training until an appropriate home can be found.
DogsOnly relies solely on donations and is a 501(c)3 Humane Society. Our mission is to rescue dogs that most other groups are not interested in due to their size, breed, age, health or other various reasons, and to provide education resources for dog owners and those with an interest in the wellbeing of dogs. DogsOnly believes that no dog should be left behind.
All of our foster homes work with our rescues to ensure they are crate trained and most are also housetrained. None of our foster homes have cats, so we can only make our best guess as to how our rescues would do with cats.
Thank you for your interest in rescue and in saving the life of a dog. Every day in the United States, 11,000 dogs die.
Why Buy When You Can Save?
Save a Rescued Dog.
If you don't find that special companion you are looking for in the DogsOnly rescue, rehabilitation, and re-home program then please visit Little Rock Animal Services, North Little Rock Animal Services, Sherwood Humane Animal Services, or one of the many other central Arkansas rescue organizations to save a rescued canine companion.