Addy is a large female Husky Golden retriever mix who was rescued as a stray by a family in Central Arkansas.
Addy is a large growing dog, but because of busy schedules, the kids, school, etc., she needs and deserves much more attention, time, and training than her foster family can give to her. She loves to be around people and other animals, but she spends more time outside than her foster family would like. She is smart and loyal, and with the minimum time her foster family has spent with her, she has already made real progress.
The ideal home for Addy would be one that has room for her to run and have fun, and possibly another canine companion to play with. For now it's probably best for her to be in a home that has older children, and with owners who can provide lavish attention, time, training, and provide the large amount of dog food that she consumes.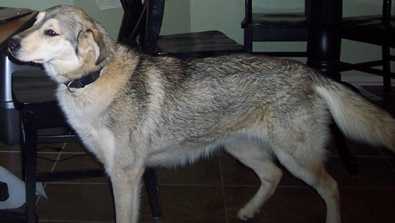 Addy is the sweetest, most loving dog you could hope to meet. She's very young, but has calmed down tremendously in the last 6 months. She is extremely submissive, and for some reason is weary of new people, especially Men. She loves the man in her foster home, and they have had her since she was 12 weeks old, so they aren't sure where the weariness comes from. She has lots of energy, but is also happy spending hours on her back having her belly rubbed. She is not aggressive towards cats, but she does like to chase them. The cats in her foster home are not too keen on the chasing part, but when Addy gets too rambunctious, the cats have no problem giving Addy a good old fashioned hiding.
Addy is very large and eats A LOT of dog food, she also does dig and have some other minor habits that can be constructively cured with diversion. When she is entertained and has more attention paid to her, she doesn't spend much time committing her bad habits. She is not a barker inside the house, but in the backyard she can sound vicious at times. She has never shown any aggression towards any person or animal, so she does not back-up the bark at all.
Addy loves attention, running, eating, and having her belly rubbed. She loves being around people and other animals. She just wants to be loved and pampered. She isn't too keen on the car, and needs two people, or a larger man to pick her up and place her in it. Other than that, there's not really anything she dislikes. She likes to run and jump, and especially likes to lick. Addy doesn't realize how big she is, so she can get carried away, especially with smaller children. For that reason, she's is recommended for a home without small children.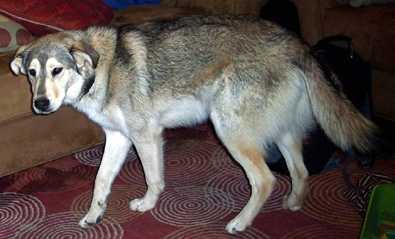 Addy is up to date on her shots, and has been spayed.
Addy is an independent rescue supported by DogsOnly, so she will not be available to meet every Saturday except for holiday weekends at the DogsOnly adoption showing at Petco on Chenal Parkway across from Target and Home Depot.
Elijah is independent rescue supported by DogsOnly, and so will not be attending the DogsOnly adoption showings at Petco on Chenal across from Target and Home Depot in west Little Rock, but if you would like to learn more or even meet her you can send an email to her rescuers at emgildner@sbcglobal.net
You can also send an email to contact@dogsonly.org. You can also complete an online adoption application by clicking the links at the top or bottom of this page. Your application or emails will be sent to Addy's guardians without delay.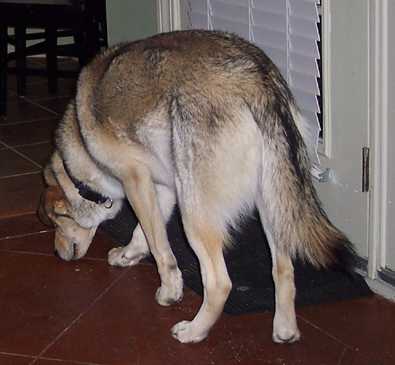 All DogsOnly foster homes work with our rescues to ensure they are crate trained and most are also housetrained. None of the DogsOnly fosters have cats in their homes so we can only make our best guess as to how our rescues would do with cats. We rescue from high kill shelters and once accepted into our program, none of our rescues are euthanized. We provide for all their vet care, socialization and training until an appropriate home can be found.
DogsOnly relies solely on donations and is a 501(c)3 Humane Society. Our mission is to rescue dogs that most other groups are not interested in due to their size, breed, age, health or other various reasons, and to provide education resources for dog owners and those with an interest in the wellbeing of dogs. DogsOnly believes that no dog should be left behind.
All of our foster homes work with our rescues to ensure they are crate trained and most are also housetrained. None of our foster homes have cats, so we can only make our best guess as to how our rescues would do with cats.
Thank you for your interest in rescue and in saving the life of a dog. Every day in the United States, 11,000 dogs die.
Why Buy When You Can Save?
Save a Rescued Dog.
If you don't find that special companion you are looking for in the DogsOnly rescue, rehabilitation, and re-home program then please visit Little Rock Animal Services, North Little Rock Animal Services, Sherwood Humane Animal Services, or one of the many other central Arkansas rescue organizations to save a rescued canine companion.