Bella is a sweet and charming young adult mix who was found running down a busy road in Little Rock with her little puppy Izzie. After trying to find her owner to no avail her rescuers are now in search of a new home for momma and baby.
Bella would adjust easily to almost any living situation. She just wants to be with people. She is a sweet dog who really wants to be in a lap. You sit down and she wants to be there with you giving and receiving attention. She loves to sleep with her head on you. Bella is a great companion dog, and has joined her rescuer's family very easily. She gets along with older dogs in her foster home, and she is curious about the cats but has gotten along fine with supervision. Three small children in the home love this girl.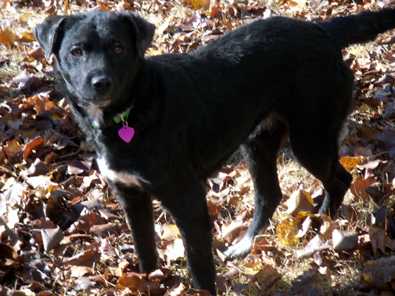 Bella is a little shy around men at first, but warms up quickly. She is bouncy and is working on not jumping up. Bella is very intelligent and because she is so eager to please she learns commands quickly.
Bella has been looked over by a vet. She is free of intestinal parasites and fleas. She is currently on medication to cure her mange, which is not contagious, only caused by poor nutrition and care. Bella very rarely has accidents in the house. She stays in a crate at night. She has never destroyed or chewed on anything.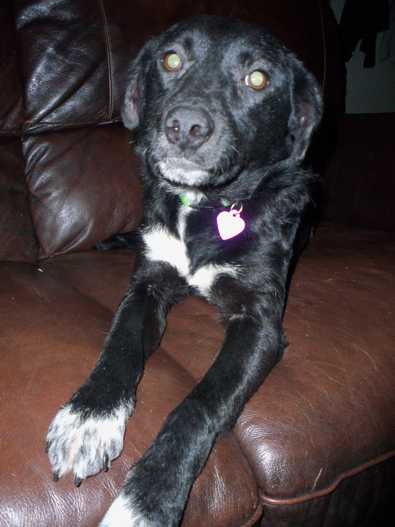 Bella is an independent rescue supported by DogsOnly, so she will not be available to meet every Saturday except for holiday weekends at the DogsOnly adoption showing at Petco on Chenal Parkway across from Target and Home Depot. However, your emails and adoption applications will be sent to Bella's rescuers who will contact you directly.
You can contact Bella's rescuer and foster directly at melanie@childrensmarketsale.com or send an email to DogsOnly at contact@dogsonly.org. You are also encouraged to submit an online adoption application by clicking the orange colored links at the top or bottom of this page. Your adoption application will be forwarded to Bella's foster family.
We always try and answer all emails within 24 hours. All of our young and adult dogs require a 2 week home visit before finalizing the adoption process. This is to help ensure it is a good match for all involved without making a final commitment. All of our rescues are in private homes and not available to be visited outside of showing times.
All DogsOnly foster homes work with our rescues to ensure they are crate trained and most are also housetrained. None of the DogsOnly fosters have cats in their homes so we can only make our best guess as to how our rescues would do with cats. We rescue from high kill shelters and once accepted into our program, none of our rescues are euthanized. We provide for all their vet care, socialization and training until an appropriate home can be found.
DogsOnly relies solely on donations and is a 501(c)3 Humane Society. Our mission is to rescue dogs that most other groups are not interested in due to their size, breed, age, health or other various reasons, and to provide education resources for dog owners and those with an interest in the wellbeing of dogs. DogsOnly believes that no dog should be left behind.
All of our foster homes work with our rescues to ensure they are crate trained and most are also housetrained. None of our foster homes have cats, so we can only make our best guess as to how our rescues would do with cats.
Thank you for your interest in rescue and in saving the life of a dog. Every day in the United States, 11,000 dogs die.
Why Buy When You Can Save?
Save a Rescued Dog.
If you don't find that special companion you are looking for in the DogsOnly rescue, rehabilitation, and re-home program then please visit Little Rock Animal Services, North Little Rock Animal Services, Sherwood Humane Animal Services, or one of the many other central Arkansas rescue organizations to save a rescued canine companion.