Rusty is an Anatolian Shepherd Great Pyrenees mix who loves people. Rusty loves people so much that he was leaving home to go over to a nearby feedlot, where he was apparently hanging out and protecting the cattle (free service for feedlot owner), and meeting and greeting all the visiting farmers and their families.
Unfortunately Rusty doesn't understand property rights, and the owner of a lot that Rusty crosses to get to the feedlot has threatened to shoot at him if he sees Rusty crossing his field again. Apparently it never dawned on the current owner to improve the fencing, even just with hotwire. The best thing to do for Rusty is to find him a new home with lots of friendly people for Rusty to talk to.
Rusty knows how to walk on leash, heel, knows basic manners commands. Likes being an outdoor dog, but his current owner has had him come indoors regularly so he knows how to act in the house. Rusty kills all predators and varmints, even badgers, but is sweet, tolerant, and even careful with domestic cats, and kittens. Apparently Rusty has been okay with a pet parrot in his home.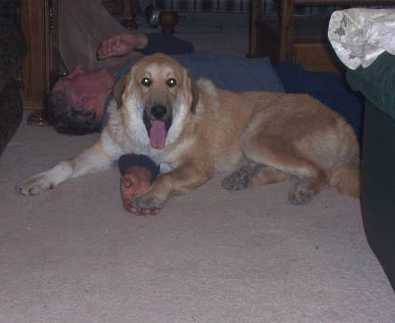 Rusty has been neutered, is 18 months old, weighs about 100 lbs, is healthy and up to date on all of his shots. He is actually a rescue in the National Anatolian Rescue Network (NASRN) who first heard of his plight and came to the rescue. NASRN is a nationwide rescue effort, but they do not maintain shelters, and rely on regional volunteers and organizations like DogsOnly to help them rescue animals.
DogsOnly is known to take large breed canine companions, so it wasn't long before Rusty was on his way to Little Rock, and is now safe and sound while DogsOnly looks for that new home and family he needs.
Rusty will be available to meet every Saturday except for holiday weekends at the DogsOnly adoption showings (click here for directions) at Petco on Chenal Parkway across from Target and Home Depot.
To learn more about Rusty you can send an email to contact@dogsonly.org or complete an online adoption application by clicking the orange colored text links at the top or bottom of this page. We always try and answer all emails within 24 hours. All of our young and adult dogs require a 2 week home visit before finalizing the adoption process. This is to help ensure it is a good match for all involved without making a final commitment. All of our rescues are in private homes and not available to be visited outside of showing times. You can also meet Rusty and find out for yourself how wonderful he is at the DogsOnly adoption showings.
DogsOnly relies solely on donations and is a 501(c)3 Humane Society. Our mission is to rescue dogs that most other groups are not interested in due to their size, breed, age, health or other various reasons, and to provide education resources for dog owners and those with an interest in the wellbeing of dogs. DogsOnly believes that no dog should be left behind.
All of our foster homes work with our rescues to ensure they are crate trained and most are also housetrained. None of our foster homes have cats, so we can only make our best guess as to how our rescues would do with cats.
Thank you for your interest in rescue and in saving the life of a dog. Every day in the United States, 11,000 dogs die.
Why Buy When You Can Save?
Save a Rescued Dog.
If you don't find that special companion you are looking for in the DogsOnly rescue, rehabilitation, and re-home program then please visit Little Rock Animal Services, North Little Rock Animal Services, Sherwood Humane Animal Services, or one of the many other central Arkansas rescue organizations to save a rescued canine companion.