Choco is a large male Labrador Retriever who was rescued as a hungry, exhausted, and frightened stray in central Arkansas by a very kind understanding animal lover.
Initially, Chocko was very guarded and let no one close except for his rescuer, but after some TLC he has become welcoming, friendly, and a very happy dog.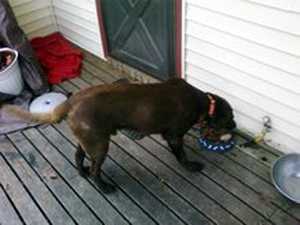 Chocko needs loving nurture, walks, and a big yard because he is a big dog. Thanks to his rescuer and foster, Chocko has done well since he was first rescued and is reaching his desired weight for his frame. Although he has obviously been kept indoors and obviously been house-trained, he should have the option of coming in the house to feel like he is part of the family. He very obviously loves being around other dogs, and he and a Golden Retriever who lives in his foster home enjoy playing together. Since there are only females in his foster home, it's difficult to say how he would get along with other males, but he is so smart, so anxious to please, and so appreciative of having a loving home, it's felt like he would make the effort.
Chocko is very playful and loving. He stays pressed against his foster mom when she is outside with him and he howls forlornly when she has to go in without him. A true comic, he immediately begins to show off if he has an audience. Chocko obeys some word commands and has demonstrated high intelligence.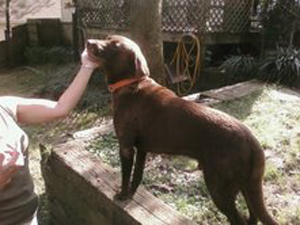 More than anything Chocko loves all the love and stroking you have time to offer to him and a nicesoft bed in which he can snooze and dream.
Since he was rescued Chocko has progressively recovered from the trauma of being abandoned, but he reacts with anxiety to being constrained in a small area (although he loves to ride in the car). Clearly, he does not like having to stay outside all the time, although it helps when he is left outside with his Golden Retriever friend during the day.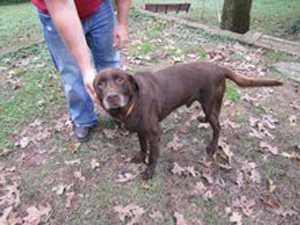 Chocko likes to chase and play fights with his Golden Retriever friend and loves to rough-house, and wrestle with a local teenage boy who comes to visit him. Chocko is careful not to get too rough.
Chocko is almost certainly house-trained because when it's time for the dogs in his foster home to go out to use the bathroom, he runs and does his business, and dashes back to the door where he paws the door. He is clearly saying, "I pee peed! Can I come in?" Clearly it wouldn't be a good idea to crate ol' Chocko; perhaps in time Chocko can be crated but only for short periods of time. Chocko has only been out on the leash twice. Although he obeyed word commands, he was clearly so anxious about being out of our yard (the abandonment issue) that he jerked his foster mom along trying to get back to the house.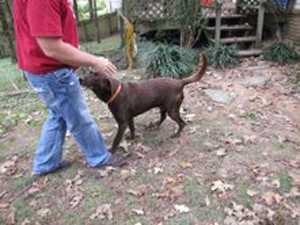 Chocko is estimated to be 5 or 6 years old according to the vet. He has many good years remaining to be someone's faithful and loving companion. He is a treasure who will win your heart on sight!!!
Chocko is an independent rescue supported by DogsOnly, so he will not be available to meet every Saturday except for holiday weekends at the DogsOnly adoption showing at Petco on Chenal Parkway across from Target and Home Depot. However, your emails and adoption applications will be sent to Chocko's rescuers who will contact you directly.
You can contact Chocko's rescuer and foster directly at sherrelmoeller@gmail.com or send an email to DogsOnly at contact@dogsonly.org. You are also encouraged to submit an online adoption application by clicking the orange colored links at the top or bottom of this page. Your adoption application will be forwarded to Chocko's foster family.
All DogsOnly foster homes work with our rescues to ensure they are crate trained and most are also housetrained. None of the DogsOnly fosters have cats in their homes so we can only make our best guess as to how our rescues would do with cats. We rescue from high kill shelters and once accepted into our program, none of our rescues are euthanized. We provide for all their vet care, socialization and training until an appropriate home can be found.
DogsOnly relies solely on donations and is a 501(c)3 Humane Society. Our mission is to rescue dogs that most other groups are not interested in due to their size, breed, age, health or other various reasons, and to provide education resources for dog owners and those with an interest in the wellbeing of dogs. DogsOnly believes that no dog should be left behind.
All of our foster homes work with our rescues to ensure they are crate trained and most are also housetrained. None of our foster homes have cats, so we can only make our best guess as to how our rescues would do with cats.
Thank you for your interest in rescue and in saving the life of a dog. Every day in the United States, 11,000 dogs die.
Why Buy When You Can Save?
Save a Rescued Dog.
If you don't find that special companion you are looking for in the DogsOnly rescue, rehabilitation, and re-home program then please visit Little Rock Animal Services, North Little Rock Animal Services, Sherwood Humane Animal Services, or one of the many other central Arkansas rescue organizations to save a rescued canine companion.