Carl is a large male adult Labrador Retriever Mastiff mix who was abandoned in an agricultural area in eastern Arkansas. He was malnourished and dehydrated, and had a long infected laceration on his chest. Despite his discomfort Carl readily accepted help and went right up to his rescuers. Poor Carl allowed his rescuers to clean and dress his wound, and gladly accepted food and water before making a 2 hour ride in the bed of a pickup to their home.
Carl is from a rural area and he likes to run. He is content in his foster family's backyard but gets several walks each day. He is welcome inside but if it is a pretty day he actually prefers to stay outdoors.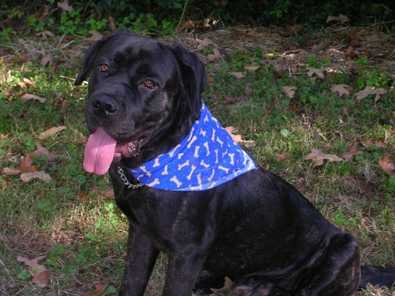 Carl loves people and is very submissive. He desperately wants to please and his foster family has found him to be a quick learner. He knows his basic commands and is curious and wants to learn. He is interested in his environment and willingly meets new people and challenges.
Carl loves to go on walks. He doesn't appear to have been exposed much to a ball but he enjoys chasing his squeaky toys. His favorite thing is for you to chase him or rub his belly.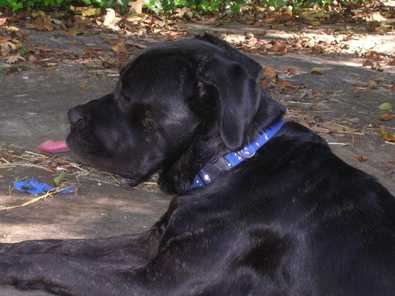 Carl does not seem to dislike anything. During his personality assessment he barked and demonstrated frustration and confusion towards a neutral dog. It's thought that he has not been around many dogs. His evaluator suggested he be placed in a home without other dogs until his social skills are developed.
Carl is all about having a good time. He will peek around a tree and try to surprise you with his squeaky toy. If you chase him he takes off in a big oval path around the yard. He loves a teenage son in his foster home and brings him hickory nuts whenever he is outside.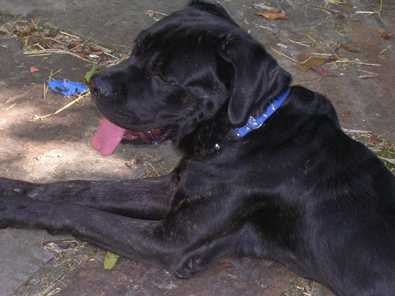 Carl's laceration has healed nicely. He will be neutered and vaccinated before he is adopted. He will be checked for heartworms at that time.
Carl is a big baby. He is strong and looks intimidating but if you scold him in a firm voice he will flop over, wag his tail and look very apologetic. He needs exercise but is also content quietly sitting on the deck and listening to the birds.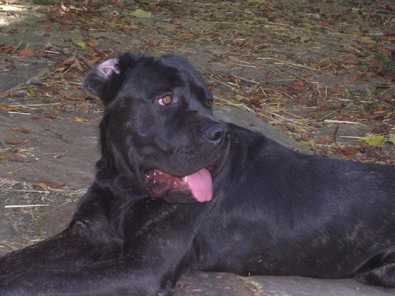 Carl is an independent rescue supported by DogsOnly, so he will not be available to meet every Saturday except for holiday weekends at the DogsOnly adoption showing at Petco on Chenal Parkway across from Target and Home Depot. However, your emails and adoption applications will be sent to Carl's rescuers who will contact you directly.
The email contact to learn more about Carl is contact@dogsonly.org, or you can submit an online adoption application by clicking the orange colored links at the top or bottom of this page.
All DogsOnly foster homes work with our rescues to ensure they are crate trained and most are also housetrained. None of the DogsOnly fosters have cats in their homes so we can only make our best guess as to how our rescues would do with cats. We rescue from high kill shelters and once accepted into our program, none of our rescues are euthanized. We provide for all their vet care, socialization and training until an appropriate home can be found.
DogsOnly relies solely on donations and is a 501(c)3 Humane Society. Our mission is to rescue dogs that most other groups are not interested in due to their size, breed, age, health or other various reasons, and to provide education resources for dog owners and those with an interest in the wellbeing of dogs. DogsOnly believes that no dog should be left behind.
All of our foster homes work with our rescues to ensure they are crate trained and most are also housetrained. None of our foster homes have cats, so we can only make our best guess as to how our rescues would do with cats.
Thank you for your interest in rescue and in saving the life of a dog. Every day in the United States, 11,000 dogs die.
Why Buy When You Can Save?
Save a Rescued Dog.
If you don't find that special companion you are looking for in the DogsOnly rescue, rehabilitation, and re-home program then please visit Little Rock Animal Services, North Little Rock Animal Services, Sherwood Humane Animal Services, or one of the many other central Arkansas rescue organizations to save a rescued canine companion.