Jenny needs to be re-homed because her owner is no longer able to take care of her due to health concerns and scheduled surgeries. Jenny has been in a loving caring home and her owner wants to make sure that Jenny goes to a home and family where she will receive the same love and attention that she's getting now, and someone and somewhere that she can count on for the rest of her life.
Jenny is 3 years old. She is believed to be a Leonberger, and stands 24 or 25 inches at the shoulder. She is spayed and fully vetted. Jenny has a very soft-mouth, never ever bites, even in play. She will lick her owner's hands but has never licked her face. She will lay at her owner's feet with her own feet on top of her owner's and cross her legs like a little lady. As long as Jenny is being petted, she will contentedly lay in the same spot. At other times, Jenny will lay her head in your lap and wait to be stroked. If she's not being petted, she will bump and nudge your hand or arm, or whatever is close to the top of her head.
Jenny seldom barks and loves to be inside. She loves everybody and everything. Although there are no cats in Jenny's home, her owner feels sure she could be shown how to be respectful to cats and do no harm. Jenny is trained to go potty outside and is very good about taking care of business. In summer, Jenny needs a16 inch fan sitting on the bare floor to blow cool air on her because she has a lot of hair that traps the heat. She loves the fan air to blow over her, otherwise she will need air conditioning because she does not like the heat. Jenny has been getting rawhide chews to help keep her teeth clean as well as to keep her entertained. She doesn't chew the raw hides for very long.
The only reason that Jenny's owner is trying to find a WONDERFUL home for her is because her owner is unable to take the best care of her and provide all the basic things that Jenny needs and deserves: regular brushing, bathing, nail clipping, tooth cleaning and running with her. Her current owner is disabled and is facing several more surgeries in the coming months, leaving her in bed where she would be unable to care for Jenny. With the first of those surgeries is scheduled for October 13th, Jenny's adoption is a matter of some urgency.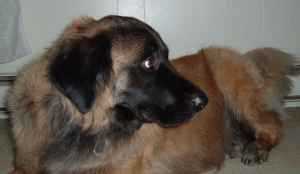 Jenny's known history began when she was about 5 months old. She was obviously abandoned, starved, covered with fleas and ticks. Her owner brought her home and examined her. Nothing serious showed up, but she did have a bad rash causing her to continually scratch and chew. Jenny was taken to the vet who diagnosed a case of Red Mange. Red mange is not contagious to other dogs or humans.
Since Jenny was rescued she has grown stronger and has completely recovered. She is very healthy and happy now that all of her trials are behind her. Jenny has grown into a healthy, happy, sweet, gentle, and loving dog although her owner deeply regrets that Jenny has to go to someone else who can love and care for her. It's going to be heart breaking, but Jenny deserves the best and her owner is praying that she find the perfect home.
Jenny knows some commands, but occasionally needs to hear the command repeated. She will sit, (lay) down, stay, take or take It (whatever "it" may be into her mouth), and crawl from the down position. When laying in her owner's path, Jenny responds to the command, "Jenny, up and move", out (as in out of the room) and outside.
Jenny's owner loves her a great deal and would not part with her if it were not for her health issues and inability to provide the care that she feels Jenny deserves. Here's a note from Jenny's owner:

"I pray that you will love her as much as I do. She must NEVER be tied to a tree and left there in any kind of weather. She is a people dog and will return much more love that you could ever give. If she is not allowed in the house with her family, she must have a fenced yard, hopefully a large yard so she can run and play."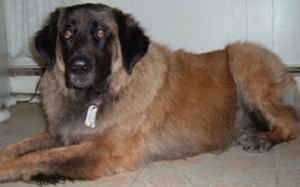 Jenny's adoption fee is $150 and covers all necessary vet care to include: spay or neuter (mandatory - no exceptions), rabies, micro-chipping and registration, all vaccinations (including all puppy shots, rabies, adult boosters and Bordatella), grooming, Frontline for flea/tick preventative, heartworm check if age appropriate and preventative, collar and 50% of basic training classes.
Jenny is an independent rescue supported by DogsOnly, so she will not be available to meet every Saturday except for holiday weekends at the DogsOnly adoption showing at Petco on Chenal Parkway across from Target and Home Depot. However, your emails and adoption applications will be sent to Jenny's owner who will contact you directly.
The email contact to learn more about Jenny is contact@dogsonly.org, or you can submit an online adoption application by clicking the orange colored links at the top or bottom ofthis page.
All DogsOnly foster homes work with our rescues to ensure they are crate trained and most are also housetrained. None of the DogsOnly fosters have cats in their homes so we can only make our best guess as to how our rescues would do with cats. We rescue from high kill shelters and once accepted into our program, none of our rescues are euthanized. We provide for all their vet care, socialization and training until an appropriate home can be found.
DogsOnly relies solely on donations and is a 501(c)3 Humane Society. Our mission is to rescue dogs that most other groups are not interested in due to their size, breed, age, health or other various reasons, and to provide education resources for dog owners and those with an interest in the wellbeing of dogs. DogsOnly believes that no dog should be left behind.
All of our foster homes work with our rescues to ensure they are crate trained and most are also housetrained. None of our foster homes have cats, so we can only make our best guess as to how our rescues would do with cats.
Thank you for your interest in rescue and in saving the life of a dog. Every day in the United States, 11,000 dogs die.
Why Buy When You Can Save?
Save a Rescued Dog.
If you don't find that special companion you are looking for in the DogsOnly rescue, rehabilitation, and re-home program then please visit Little Rock Animal Services, North Little Rock Animal Services, Sherwood Humane Animal Services, or one of the many other central Arkansas rescue organizations to save a rescued canine companion.