Lucy is a young female Arkansas Brown Dog – also sometimes known as a Heinz 57 dog. Lucy was found as a stray trotting along the side of a busy highway. Lucy is a sweet trusting dog who loves people, so it wasn't hard to convince her to get into the car and accept her rescue.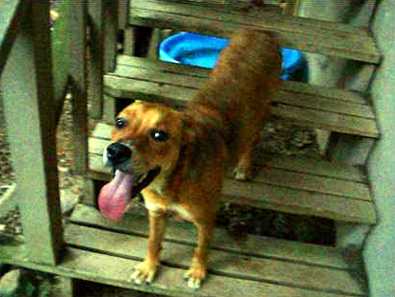 When Lucy was first rescued she didn't appear to have been worked with very much, but she's learning very quickly. She loves affection, and has gone running with her rescuer at least twice on a harness leash and she did very well. She comes whenever you call her - except for one time when she decided to chase a cat called Tiger, but that was after she had sniffed all over Tiger and she never tried to hurt her, she just wanted to play.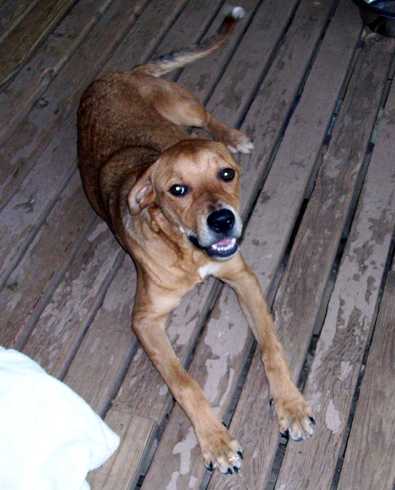 Lucy's rescuers already have four dogs, one of whom is blind, and they are a little annoyed that their family has brought yet another rescue dog home temporarily, but thanks to Lucy's great personality and attitude they have all been together playing in the back yard. Lucy isn't aggressive at all, but really hopes other dogs will play with her! She has been for a trip the dog park (she has had her shots) at Murray, and she did quite well. She does tend to be a little timid and submissive with other dogs. Her new family will absolutely fall in love with her.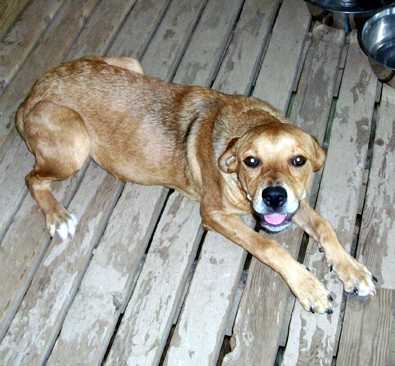 Lucy has had all her shots, worming, heartworm treatment and flea treatment (and a bath and nail trim). She will be spayed before she is adopted.
If it weren't for a full house, Lucy would be a perfect dog, and wouldn't be looking for a new home. To learn more about Lucy you can send an email to her guardians at Lbethwill@sbcglobal.net. You can also send an email to contact@dogsonly.org or complete an online adoption application by clicking the orange colored text links at the top or bottom of this page.
Important - Lucy is not a DogsOnly program rescue, but is an independent adoption promoted by DogsOnly. Your application and email will be forwarded to Lucy's family, who will contact you directly. All arrangements and agreements are made directly between the applicant and Lucy's owners. Lucy will not be available to meet at the DogsOnly adoption showings.
All of our young and adult dogs require a 2 week home visit before finalizing the adoption process. This is to help ensure it is a good match for all involved without making a final commitment. All of our rescues are in private homes and not available to be visited outside of showing times
All of our foster homes work with our rescues to ensure they are crate trained and most are also housetrained. None of our foster homes have cats, so we can only make our best guess as to how our rescues would do with cats..
We rescue from high kill shelters and once accepted into our program, none of our rescues are euthanized. We provide for all their vet care, socialization and training until an appropriate home can be found. We rely solely on donations and are a 501(c)3 Humane Society. The only support we receive is from donations from the general public.
Thank you for your interest in rescue and in saving the life of a dog. Every day in the United States, 11,000 dogs die.
Why Buy When You Can Save?
Save a Rescued Dog.
If you don't find that special companion you are looking for in the DogsOnly rescue, rehabilitation, and re-home program then please visit Little Rock Animal Services, North Little Rock Animal Services, Sherwood Humane Animal Services, or one of the many other central Arkansas rescue organizations to save a rescued canine companion.