Porter is a young male… Heinz 57 dog! No two people can agree as to exactly what breeds make up Porter's ancestry- his body type is almost pointer-type, because he is lean and athletic. His coloring is border collie-ish, but his hair is short and he does not act like a herding dog at all. He has a very tightly curled tail. He is definitely his own kind of dog!
Porter was adopted from The Little Rock Animal Village as a small pup, and has for the most part done very well in his home. His only issue is that he does not get along with children when there is food around, and for this reason needs to be in a home with no children.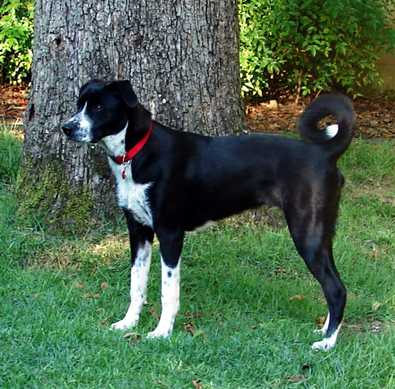 Porter is a very intelligent, easily trainable, food-motivated, sweet, playful puppy. Porter loves food and treats!! He likes nothing more than to receive love and attention - when he's sitting beside you getting petted, he is in heaven! He loves to play and run around and go for a walk, but after a little while he is worn out and happy to just lay on his bed and snooze. He REALLY wants to please!! He is not destructive or overly hyper, especially not for an eight month old puppy. Porter likes to run around in short spurts, playing games like hide and seek, but then he gets worn out and wants to rest. He wants to play with other dogs when he is around them.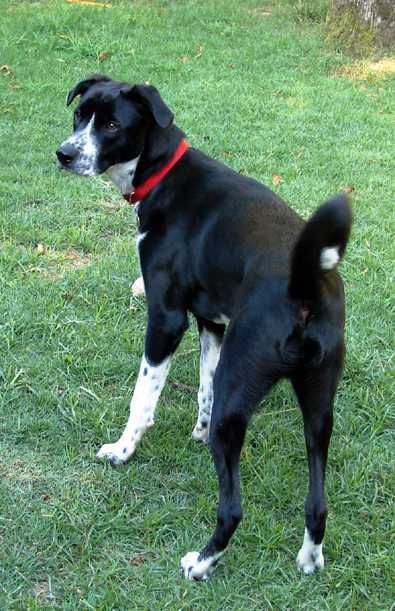 Porter has been neutered and given all of his vaccinations at the Little Rock Animal Shelter. He has also been microchipped. He is already housetrained, leash trained, crate trained, and knows his basic commands. He does not really like his crate, but will stay in it when he has to, especially when travelling.
To learn more about Porter you can send an email to contact@dogsonly.org or complete an online adoption application by clicking the orange colored text links at the top or bottom of this page.
Important - Porter is not a DogsOnly program rescue, but is an independent adoption supported by DogsOnly. You application and email will be forwarded to Porters family, who will contact you directly. All arrangements and agreements are made directly between the applicant and Porter's owners. Porter will not be available to meet at the DogsOnly adoption showings.
All of our young and adult dogs require a 2 week home visit before finalizing the adoption process. This is to help ensure it is a good match for all involved without making a final commitment. All of our rescues are in private homes and not available to be visited outside of showing times
All of our foster homes work with our rescues to ensure they are crate trained and most are also housetrained. None of our foster homes have cats, so we can only make our best guess as to how our rescues would do with cats..
We rescue from high kill shelters and once accepted into our program, none of our rescues are euthanized. We provide for all their vet care, socialization and training until an appropriate home can be found. We rely solely on donations and are a 501(c)3 Humane Society. The only support we receive is from donations from the general public.
Thank you for your interest in rescue and in saving the life of a dog. Every day in the United States, 11,000 dogs die.
Why Buy When You Can Save?
Save a Rescued Dog.
If you don't find that special companion you are looking for in the DogsOnly rescue, rehabilitation, and re-home program then please visit Little Rock Animal Services, North Little Rock Animal Services, Sherwood Humane Animal Services, or one of the many other central Arkansas rescue organizations to save a rescued canine companion.