Cami has had a tough life to date and none due to her own fault. Not only is Cami a Hurricane Katrina survivor, but she has also survived abuse and multiple misplaced homes. Cami's story with rescue goes back 5 years, since which time she has been bounced around in Illinois from one home to another.
Back in September, 2005, Cami was found dumped in the parking lot of a veterinarian clinic. She was in very bad shape and barely alive after someone had chopped her tail off. After some treatment and care, Cami was placed in a foster home in Ponchatoula, Louisiana. Things were looking up for Cami, but then Hurricane Katrina struck. Cami's foster family lost everything, and Cami and her family suddenly found themselves homeless. Cami and her family were evacuated out of the area. Fortunately another foster home was soon found for Cami, but sadly it meant that she was separated from a home and family that she had come to love and trust.
Eventually Cami was adopted by a family in Illinois who kept her for about a year, but who then decided that Cami needed to find a new home, because a male Anatolian in the home no longer cared for her. Cami was sent to live with a family with eight children. Cami loves children, and she must have been very happy indeed. However, when yet another child came along something had to give, and sadly it was time for Cami to move on yet again.
Rather than contact a rescue organization to help place Cami in an appropriate home, the family just gave her away to another family who, as it turned out, didn't really want Cami, and were not prepared to make a long term commitment to her.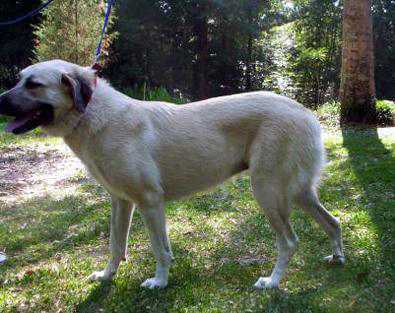 It didn't take long for Cami to figure out that she wasn't welcome in the new home, and so when Cami escaped, the family didn't even bother to look for her. After wandering as a stray for some time, Cami found her way to a house way out in the country, where she found her next home. Unfortunately, this home did not have a fence, and Cami's free spirit born of survival and experience was too much for her new found family, so they soon grew tired of her wandering about, and gave up on her just like all of Cami's previous homes had done.
Finally Cami found her way back to rescue, and so she should now finally find that permanent home and loving family that she so much needs and deserves.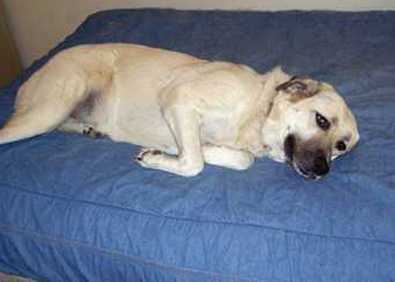 Cami is a typical Anatolian, without a secure fence she has a tendency to roam. Locked up in a backyard with nothing to do, she will dig out and escape. While Cami was in a foster home before going to Illinois , she never once dug out of her yard. Her foster had kept her as an inside pet and she thrived. Cami is completely housetrained and trustworthy indoors. She has a tendency to patrol the house at night and thrives with children. She has been fine with cats in previous homes and does well with most other dogs.
Cami must go to a committed and experienced dog owner who is familiar with the Anatolian breed and understands their drive and nature. It is not fair for Cami to be moved yet again. Cami is now about 6 years old and ready for a forever home, not to be bounced around ever again.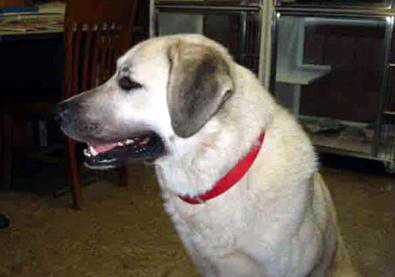 Cami is a very good natured girl, she loves people and will make an excellent family companion and guardian. True to the Anatolian Shepherd nature she will bark to alert you that someone is entering your property. An Anatolian never wastes a bark, and rarely gives a false alarm. Cami is good with other dogs, including small dogs and is also good with children. Cami is housebroken, will walk on lead and knows basic commands. Cami is heartworm negative and has been completely vetted including spay, micro-chipping, Frontline, etc. Cami is a very sweet and laid back girl.
Cami is a NASRN rescue (National Anatolian Shepherd Rescue Network). NASRN is a nationwide rescue effort, but they do not maintain shelters, and rely on regional volunteers and organizations like DogsOnly to help them rescue animals. NASRN may be able to provide transport assistance within a 1,000 mile radius of Central Arkansas, please inquire. They cannot transport dogs from east coast to west coast.
DogsOnly is known to take large breed canine companions, so it wasn't long before Cami was on her way to Little Rock, and is now safe and sound while DogsOnly looks for that new home and family she so badly wants
The email contact to learn more about Cami is contact@dogsonly.org, or you can submit an online adoption application by clicking the orange colored links at the top or bottom of this page.
All of our young and adult dogs require a 2 week home visit before finalizing the adoption process. This is to help ensure it is a good match for all involved without making a final commitment. All of our rescues are in private homes and not available to be visited outside of showing times.
All of our foster homes work with our rescues to ensure they are crate trained and most are also housetrained. None of our foster homes have cats, so we can only make our best guess as to how our rescues would do with cats.
We rescue from high kill shelters and once accepted into our program, none of our rescues are euthanized. We provide for all their vet care, socialization and training until an appropriate home can be found. We rely solely on donations and are a 501(c)3 Humane Society. The only support we receive is from donations from the general public.
Thank you for your interest in rescue and in saving the life of a dog. Every day in the United States, 11,000 dogs die.
Why Buy When You Can Save?
Save a Rescued Dog.
If you don't find that special companion you are looking for in the DogsOnly rescue, rehabilitation, and re-home program then please visit Little Rock Animal Services, North Little Rock Animal Services, Sherwood Humane Animal Services, or one of the many other central Arkansas rescue organizations to save a rescued canine companion.