Mr. Duke is a young male Anatolian Shepherd Dog who has a crush on a cute Great Pyrenees in his foster home. He was rescued by The Ozark Dogs Rescue organization in Mountain Home in Arkansas.
Mr. Duke is an eager to please fella. He learns quickly with positive, praise based interaction. He 'talks' to his people which could be misunderstood. His greeting is a 'happy growl' noise. He is a typical Anatolian Shepherd Dog in that he needs to think that what you want him to do is his idea. He does not appear to have any food or space issues.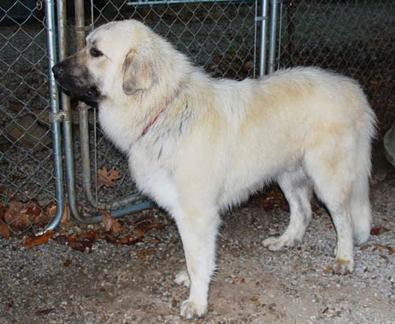 Mr. Duke has liked all the other dogs he has had contact with, males and females. Since he is still an adolescent, he may later decide other male dogs are not his buddies. He likes to play in his water, re-arrange his blankets, and carry his food dish around. He likes his igloo dog house, but would prefer to be with his people when they are home. He especially likes playing with one young female Great Pyrenees who also lives in his foster home. They might have a crush on each other. He enjoys car rides in the back seat. He loads well and will tolerate riding crated if necessary. He loves hugs and being petted. He also loves long walks where he can sniff and smell all that have been that way before.
Mr. Duke's foster family has not discovered anything that he does not like other than being alone. Mr. Duke is good, but being alone clearly makes him very sad. He does not try to challenge the fence or tear things up. He just patiently waits. He is not a loner. He may not like nail trims or baths, but he is tolerant of both. He seems to ignore a cat that lives in his foster home.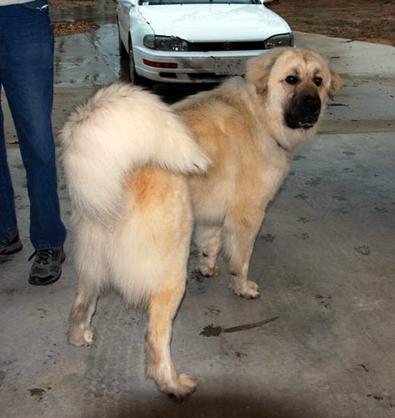 Mr. Duke is playful, but forget about it if you want to play 'fetch'. Mr. Duck just watches as you get all excited and throw apparently useless objects about the place shouting "fetch" at the object. He is a typical Anatolian Shepherd Dog and his idea of play is being hugged, petted and going for a walk. With other dogs, he will romp and roll and play both submissive and dominate roles with his canine girlfriend.
Mr. Duke would do best in a home that is familiar with the Anatolian Shepherd personality. He needs a companion home as he is not a working livestock guardian. He would do best with either a very large yard or fenced property. He would need house privileges. He would need someone who would not feel intimidated by his size and willing to use praise, never force. He is so big, he could accidently knock an old person or child over.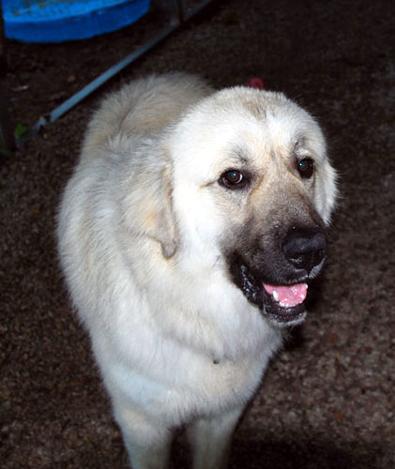 Mr. Duke is a smart guy. He is crate trained, leash trained, and knows his basic commands. He has already been neutered, received his immunizations, worming, and heartworm test. A health certificate will be provided. Mr. Duke was born approx. April 2008. He weighs approx 110 pounds and 31" at the shoulder.
You can contact Ozark Dog Rescue to learn more about Mr. Duke by sending an email to ozarkdogs@yahoo.com or calling (870) 508-4814.
You can also visit the Ozark Dog Rescue website by clicking here to learn more about Mr. Duke and their other rescued dogs. You can also send an email to contact@dogsonly.org or complete an online adoption application by clicking the orange colored text links at the top or bottom of this page.
We always try and answer all emails within 24 hours. All of our young and adult dogs require a 2 week home visit before finalizing the adoption process. This is to help ensure it is a good match for all involved without making a final commitment. All of our rescues are in private homes and not available to be visited outside of showing times.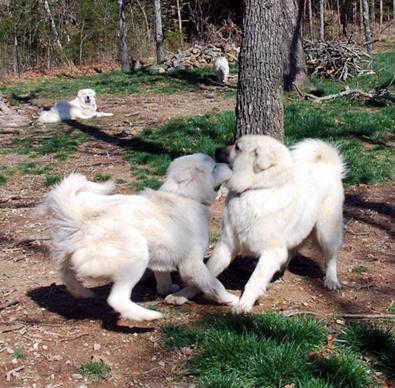 All of our foster homes work with our rescues to ensure they are crate trained and most are also housetrained. None of our foster homes have cats, so we can only make our best guess as to how our rescues would do with cats.
We rescue from high kill shelters and once accepted into our program, none of our rescues are euthanized. We provide for all their vet care, socialization and training until an appropriate home can be found. We rely solely on donations and are a 501(c)3 Humane Society. The only support we receive is from donations from the general public.
Thank you for your interest in rescue and in saving the life of a dog. Every day in the United States, 11,000 dogs die.
Why Buy When You Can Save?
Save a Rescued Dog.
If you don't find that special companion you are looking for in the DogsOnly rescue, rehabilitation, and re-home program then please visit Little Rock Animal Services, North Little Rock Animal Services, Sherwood Humane Animal Services, or one of the many other central Arkansas rescue organizations to save a rescued canine companion.