Allie is a Beagle Rat Terrier who needs a family that can provide more attention than her current owner is able to give to her. Not getting all the attention she needs she's not yet totally house broken, so Allie stays in her Pet Taxi when her family is gone from home. On weekends when everyone is at home, Allie does great.
Allie was adopted from the Little Rock Animal Services in Jan. 2009. Sadly, Allie's first owner died and Allie was left with a friend who wasn't able to keep her. After enjoying a life of company, love, and attention, suddenly Allie found herself all alone in the frightening and unfamiliar surroundings of the animal shelter.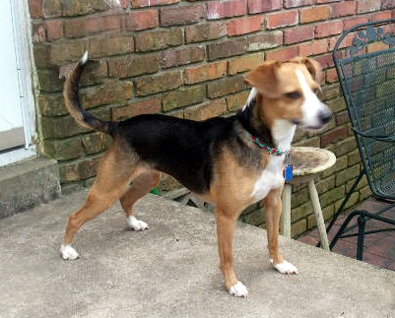 Allie is loving, cuddly and playful. She loves to go on walks. He current owner doesn't really know how she would do with other animals. When they go for a walk, Allie will act like she wants to interact with other dogs, but then she'll snap at them when they get close.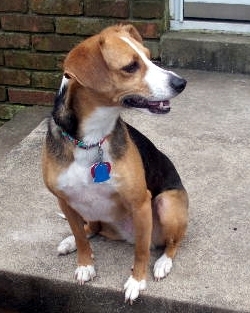 Allie loves to go on walks, and gets so excited when the leash comes out. She loves treats and raw hide bones to chew on. Allie doesn't really like to be outside, but she is getting very bored with her pet taxi and it's becoming more and more difficult to coax Allie to go in. She likes to play fetch with soft toys.
Allie is an independent adoption supported by DogsOnly, so she will not be at the DogsOnly adoption showings in Little Rock and North Little Rock. If you would like to make arrangements to meet her, you can email her owner at mahesselbein@att.net
You can also complete an online adoption application by clicking the links at the top or bottom of this page, or send an email to contact@dogsonly.org. You application or emails will be sent to Allie's guardians without delay.
All of our young and adult dogs require a 2 week home visit before finalizing the adoption process. This is to help ensure it is a good match for all involved without making a final commitment. All of our rescues are in private homes and not available to be visited outside of showing times.
All of our foster homes work with our rescues to ensure they are crate trained and most are also housetrained. None of our foster homes have cats, so we can only make our best guess as to how our rescues would do with cats.
We rescue from high kill shelters and once accepted into our program, none of our rescues are euthanized. We provide for all their vet care, socialization and training until an appropriate home can be found. We rely solely on donations and are a 501(c)3 Humane Society. The only support we receive is from donations from the general public.
Thank you for your interest in rescue and in saving the life of a dog. Every day in the United States, 11,000 dogs die.
Why Buy When You Can Save?
Save a Rescued Dog.
If you don't find that special companion you are looking for in the DogsOnly rescue, rehabilitation, and re-home program then please visit Little Rock Animal Services, North Little Rock Animal Services, Sherwood Humane Animal Services, or one of the many other central Arkansas rescue organizations to save a rescued canine companion.