Sweet Pea's family are no longer in a position to keep her. She was purchased from a breeder and has "papers" that state that her parents are a full Great Pyrenees and a full Golden Retriever. She is a wonderful canine companion. Sweet Pea has been outside only but should be housetrained with just a little work since she is still only about 8 months old. She has been completely vetted and is ready for her new home.
Sweet Pea is a large breed dog so it will be more expensive to provide for her needs such as food, heartworm preventative and flea/tick control. Please take this into consideration as we would like to find her a permanent home. Sweet Pea has lived with children and other pets her entire life and has never had any problems.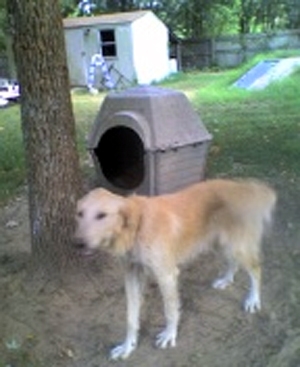 Sweet Pea is an independent adoption supported by DogsOnly, so she will not be at the DogsOnly adoption showings in Little Rock and North Little Rock. If you would like to make arrangements to meet her, you can email her owner at Betty.Jordan@rev.state.ar.us
You can also complete an online adoption application by clicking the links at the top or bottom of this page, or send an email to contact@dogsonly.org. You application or emails will be sent to Sweet Pea's guardians without delay.
All of our young and adult dogs require a 2 week home visit before finalizing the adoption process. This is to help ensure it is a good match for all involved without making a final commitment. All of our rescues are in private homes and not available to be visited outside of showing times.
All of our foster homes work with our rescues to ensure they are crate trained and most are also housetrained. None of our foster homes have cats, so we can only make our best guess as to how our rescues would do with cats.
We rescue from high kill shelters and once accepted into our program, none of our rescues are euthanized. We provide for all their vet care, socialization and training until an appropriate home can be found. We rely solely on donations and are a 501(c)3 Humane Society. The only support we receive is from donations from the general public.
Thank you for your interest in rescue and in saving the life of a dog. Every day in the United States, 11,000 dogs die.
Why Buy When You Can Save?
Save a Rescued Dog.
If you don't find that special companion you are looking for in the DogsOnly rescue, rehabilitation, and re-home program then please visit Little Rock Animal Services, North Little Rock Animal Services, Sherwood Humane Animal Services, or one of the many other central Arkansas rescue organizations to save a rescued canine companion.