Miso is a sleepy Lab Chow Chow mix with a great sense of humor. Miso was a chained dog; left alone in a back yard on the end of a chain with little contact except for the occasional brief visit by his owner to scatter some food on the ground. If it rained, Miso had fresh water, but that was the best he had to look forward to. Eventually Miso was rescued by Animal Services, and taken to the pound. Finally Miso was off the end of that chain and free from the noose around his neck. There are still countless chained dogs like Miso, you can click here to visit www.unchainyourdog.org to learn more about how you can make a difference.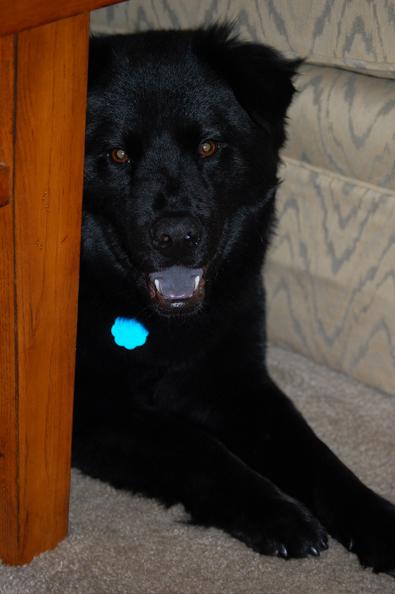 Miso was eventually sent to rescue where he went to a foster home to recover and wait for his permanent home. His foster family reports that Miso is doing great. He changes every day. He has opened up and started playing. Miso has made friends with another dog in his foster home called Marli. At times Miso seems to be mocking everything Marli does. It is the most comical thing his foster family has ever seen. The dogs will sit together and literally talk to each other. One will whine and then the other will moan or groan, and back and forth the talk goes. Marli loves to throw his little stuffed animals around. Well, one day Miso decided he would try it too. He shook his head a couple of times just like Marli and decided he didn't like it very much. Very very comical. Little bitty Marli even "kissed" Miso on the nose.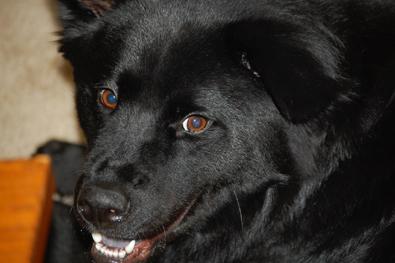 It's looking like Miso has learned to be easy with Marli, and Marli and learned that Miso is not going to harm him on purpose. Miso has also learned to like being inside. He gets excited when you ask him if he needs to go out, but is ready to come back in after he takes care of business. Miso's foster family has opened the back door a couple of times to let Marli out and have left it open to see what Miso would do. Miso just lays there looking out through the door. He's spent enough time outside alone. Miso sleeps a lot.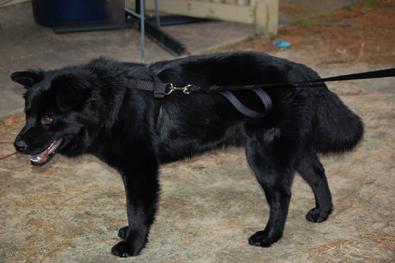 The food in his foster home is soooooooooooo much better that the filthy scraps he was used to on the end of that painful and lonely chain. He has finally slowed down on his eating, and has begun to realize that his food and water will always be there for him. He still would rather drink out of the creek in the back than his water bowl, but his foster family understands and lets him enjoy his drink. Even Marli started following Miso down to the creek for a drink with his friend. It's the kind of thing that real friends do for each other.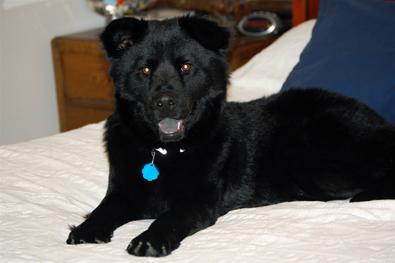 Miso has learned that if he goes outside and is a "good boy" that he will get a treat when he comes back inside. His family does this so that he has a perk to come back to. Only two "accidents" during his first two days inside and that has been it. Miso is not kenneled at night and he has yet to have an accident in the bed room. He is scared of the couch and bed and for some reason he has become scared of the coffee table and entertainment center. He has learned to like both his momma and daddy, but never both on the same day. It seems as if one day he wants his foster dad and nothing to do with mom, and the next he wants mom and not dad; sounds just like kids! Right now Miso is still easily scared. He's a gentle soul, but after his time on the chain, the smallest things scare him. With enough understanding and love Miso will probably soon relax. He will most likely do well with another larger dog to play with.
To learn more about Miso you can send an email to contact@dogsonly.org or complete an online adoption application by clicking the orange colored text links at the top or bottom of this page.
Miso's adoption fee is $125 and covers all necessary vet care to include: spay or neuter (mandatory - no exceptions), rabies, microchipping and registration, all vaccinations (including all puppy shots, rabies, adult boosters and Bordatello), grooming, Frontline for flea/tick preventative, heartworm check if age appropriate and preventative, collar and 50% of basic training classes.
All of our young and adult dogs require a 2 week home visit before finalizing the adoption process. This is to help ensure it is a good match for all involved without making a final commitment. All of our rescues are in private homes and not available to be visited outside of showing times.
All of our foster homes work with our rescues to ensure they are crate trained and most are also housetrained. None of our foster homes have cats, so we can only make our best guess as to how our rescues would do with cats.
We rescue from high kill shelters and once accepted into our program, none of our rescues are euthanized. We provide for all their vet care, socialization and training until an appropriate home can be found. We rely solely on donations and are a 501(c)3 Humane Society. The only support we receive is from donations from the general public.
Thank you for your interest in rescue and in saving the life of a dog. Every day in the United States, 11,000 dogs die.
Why Buy When You Can Save?
Save a Rescued Dog.
If you don't find that special companion you are looking for in the DogsOnly rescue, rehabilitation, and re-home program then please visit Little Rock Animal Services, North Little Rock Animal Services, Sherwood Humane Animal Services, or one of the many other central Arkansas rescue organizations to save a rescued canine companion.