Pickles was a pregnant stray when she was picked up wondering about on the street where her rescuers live. She was dirty, hungry and neglected, but after a good warm bath, some decent food and water, and some much needed medical attention she is now living happily with the 8 other dogs in her foster home.
Pickles is friendly, sweet and gentle. She's very social & likes all people and other dogs. She's active but not hyper. She's not an aggressive dog and in fact, she will hide to keep the other dogs from picking on her. She loves to kiss all the dogs and her rescuers too. Pickles has a puppy like nature, and she loves jumping and will jump up to 4 ft in the air repeatedly whenever she gets excited, usually when it's feeding time or when her foster family comes home. It's something to see! She likes to come inside when she's told that it's OK to do so. She likes to socialize with her former owners and their other dogs who actually live across the street from the home that rescued her and took her in. She likes going for walks and is very obedient. She is a real him and loves getting as much attention as she can.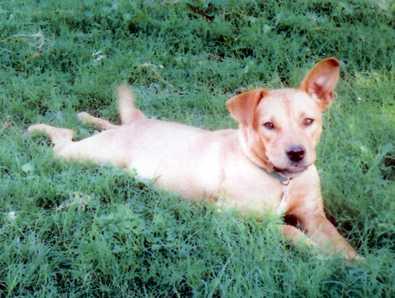 Pickles does not like the cold, and now that winter is here she's always looking for somewhere to keep warm. Despite her preference for a nice warm spot, if she spots a cat outside, she's on her feet and out of the door like a bolt of lightening. Obviously Pickles is not a good candidate for a home with cats. Pickles is a strong dog and plays rough and tumble with all of the other dogs in her foster home, and will usually out do the other dog in wrestling but it usually never gets nasty.
Pickles is already house trained, leash trained, and knows her basic skills. Pickles still has heart worms, but she should continue to respond well to the slow kill treatment, and will eventually be completely heart worm free
Pickles is an independent rescue supported by DogsOnly, and you can contact Pickles' recuer and foster home by sending an email to rita5z@aol.com You can also complete an online adoption application by clicking the links at the top or bottom of this page. Your application or emails will be sent to Pickles' guardians without delay.
All of our young and adult dogs require a 2 week home visit before finalizing the adoption process. This is to help ensure it is a good match for all involved without making a final commitment. All of our rescues are in private homes and not available to be visited outside of showing times.
All of our foster homes work with our rescues to ensure they are crate trained and most are also housetrained. None of our foster homes have cats, so we can only make our best guess as to how our rescues would do with cats.
We rescue from high kill shelters and once accepted into our program, none of our rescues are euthanized. We provide for all their vet care, socialization and training until an appropriate home can be found. We rely solely on donations and are a 501(c)3 Humane Society. The only support we receive is from donations from the general public.
Thank you for your interest in rescue and in saving the life of a dog. Every day in the United States, 11,000 dogs die.
Why Buy When You Can Save?
Save a Rescued Dog.
If you don't find that special companion you are looking for in the DogsOnly rescue, rehabilitation, and re-home program then please visit Little Rock Animal Services, North Little Rock Animal Services, Sherwood Humane Animal Services, or one of the many other central Arkansas rescue organizations to save a rescued canine companion.