Cookie aka Cookie Dough was discovered hanging around a gas station in Mississippi looking for something to eat. She was 'starving skinny' and had sores all over her body from scratching. She obviously had the mange and looked as if she was blind in one eye. She was a pitiful sight, very scared, but didn't have the strength to run away. Her rescuer has this thing for helping others in need, and once again he just couldn't drive off and leave her to suffer and face the certainty of a grim fate. After a few kind words softly spoken, Cookie Dough submitted to a warm hug, and before she knew what was happening she was up in arms and off to a safe caring foster home where she got something good to eat and oodles of love.
At first Cookie Dough was so weak she could only walk slowly and with great effort. After some medical treatment, a regular healthy diet and the odd yummy treat, Cookie began to recover, and is now a playful, affectionate and 'cute personality' dog.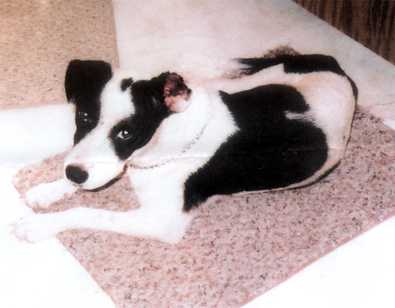 Although Cookie would be a good pet as a 2nd dog, she would also make a good match for someone who's home a lot and looking for only 1 dog as companion. She's very affectionate, quiet inside the house and easy to manage since she's a smallish dog and seems to be perfectly content with just an owner.
Cookie has a 'cute' personality playful, quiet, and very affectionate. Her face has a sad/serious look to it with her big brown eyes. Sometimes she'll hunker down making you feel sorry for her.
Cookie likes to squirm and cuddle, she'll put her 2 paws together and hug. She likes to nuzzle against you. She likes to play toss balls into the air with her mouth and chase after it. She lies to play tug of war with the dogs. She's not aggressive, but can be feisty and holds her ground. She likes to chew on sticks. She really likes to nap inside a lot. She doesn't like to be awakened when she's sleeping to go outside. She doesn't like cats, they're so…… catty!.
Cookie Dough is already house trained, leash trained, and knows her basic skills. Cookie still has heart worms, but she should continue to respond well to the slow kill treatment, and will eventually be completely heart worm free
Cookie is an independent rescue supported by DogsOnly, but you can contact Cookie's recuer and foster home by sending an email to rita5z@aol.com You can also complete an online adoption application by clicking the links at the top or bottom of this page. Your application or emails will be sent to Cookie's guardians without delay.
All of our young and adult dogs require a 2 week home visit before finalizing the adoption process. This is to help ensure it is a good match for all involved without making a final commitment. All of our rescues are in private homes and not available to be visited outside of showing times.
All of our foster homes work with our rescues to ensure they are crate trained and most are also housetrained. None of our foster homes have cats, so we can only make our best guess as to how our rescues would do with cats.
We rescue from high kill shelters and once accepted into our program, none of our rescues are euthanized. We provide for all their vet care, socialization and training until an appropriate home can be found. We rely solely on donations and are a 501(c)3 Humane Society. The only support we receive is from donations from the general public.
Thank you for your interest in rescue and in saving the life of a dog. Every day in the United States, 11,000 dogs die.
Why Buy When You Can Save?
Save a Rescued Dog.
If you don't find that special companion you are looking for in the DogsOnly rescue, rehabilitation, and re-home program then please visit Little Rock Animal Services, North Little Rock Animal Services, Sherwood Humane Animal Services, or one of the many other central Arkansas rescue organizations to save a rescued canine companion.