Ozzie is a young male German Shepherd who was abandoned near his rescuer's home. When he was discovered he was hungry and thirsty, and looked about half starved. However, after only about a month filled with good food, fresh water, and lots of love and attention he's recovered nicely and he's very healthy. Ozzie has been checked by a vet, he's been given his shots, and gotten two thumbs up.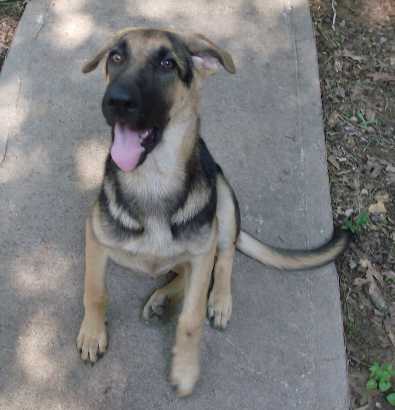 Ozzie's rescuer and foster family believe that he would make an excellent family pet. He needs a home with children old enough to play with good sized dog. Young children are not recommended, because they could accidentally be knocked over during play. He gets along well with other dogs, and even cats. He's a young dog, so he has lots of energy. His foster family keeps him outside during the day, and lets him sleep in a small room attached to the house at night. He's housetrained, and doesn't try to run off – he's a smart chap who knows when he's on to a good thing.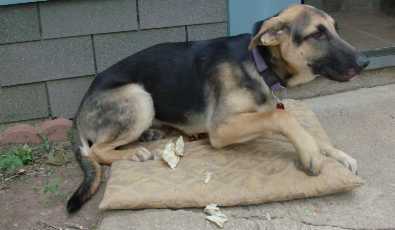 Ozzie is intelligent, and playful. Timid at first, he quickly comes around when he gets to know you. He minds well, and stops what he's doing when you tell him "no". Ozzie is eager to please, and seems to learn quickly.
Ozzie's not crazy about baths, but does fine once you get him in the water. He's very playful, and likes to play with a female beagle, but she's older and tires out quickly.
If you have further questions about Ozzie you can contact his family at 1-501-733-1576 or by email at gmcmor@cebridge.net You can also send an email to contact@dogsonly.org or complete an online adoption application by clicking the orange colored text links at the top or bottom of his this page
All of our young and adult dogs require a 2 week home visit before finalizing the adoption process. This is to help ensure it is a good match for all involved without making a final commitment. All of our rescues are in private homes and not available to be visited outside of showing times.
DogsOnly relies solely on donations and is a 501(c)3 Humane Society. Our mission is to rescue dogs that most other groups are not interested in due to their size, breed, age, health or other various reasons, and to provide education resources for dog owners and those with an interest in the wellbeing of dogs. DogsOnly believes that no dog should be left behind.
Thank you for your interest in rescue and in saving the life of a dog. Every day in the United States, 11,000 dogs are euthanized.
Why Buy When You Can Save? Save a Rescued Dog.
If you don't find that special companion you are looking for in the DogsOnly rescue, rehabilitation, and re-home program then please visit Little Rock Animal Services, North Little Rock Animal Services, Sherwood Humane Animal Services, or one of the many other central Arkansas rescue organizations to save a rescued canine companion.