Wilson is a handsome young male adult pinto Anatolian Shepherd who was picked up as a stray and taken to the Stephens County Animal Shelter in Texas.
Feeling sorry for Wilson, and knowing that if someone didn't do something Wilson faced a grim fate, an elderly lady adopted Wilson from the kill shelter with the intention of turning him over to a local rescue organization. Unknown to Wilson's rescuer, the organization that she was considering is known to be more interested in breeding dogs than actually rescuing them for adoption, and is not considered to be a humane environment.
At the last minute Wilson's rescuer contacted a spay and neuter clinic for a reference and learned the truth. Rather than release Wilson to the breeder, he was taken to the spay and neuter clinic in the hopes that they could hold him until he was adopted. Unfortunately, Wilson was brought in during the time that is available for low-income guardians to surrender pets that they can't afford to keep; most of these animals get euthanized.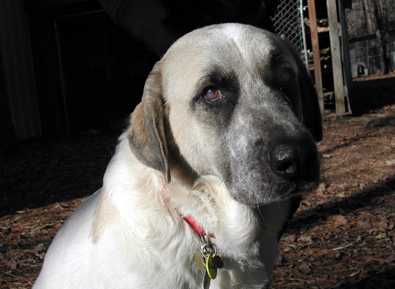 As it happened the clinic director just happened to walk into the clinic before anybody had a chance to euthanize Wilson. She recognized him as an Anatolian Shepherd and also realized that he was probably the dog that she had been called about for the reference by Wilson's rescuer.
Perhaps Wilson should be called Lucky because he got another last minute break when the clinic director stopped him from being euthanized, and decided to keep him at the clinic until she could figure out what to do.
After a few week stay at the clinic everyone had fallen in love with Wilson who made instant friends with everyone, and got along well with all the other dogs. Amazingly despite being around as many as twenty other dogs, Wilson never marked even once. Wilson was completely passive around the other dogs and would just lie down with them. Interestingly he "adores" cats, and adored the clinic director's two young children who are around 6 and 8. Wilson could often be found laying around happily watching Hannah Montana with the children. Everyone he meets is his friend.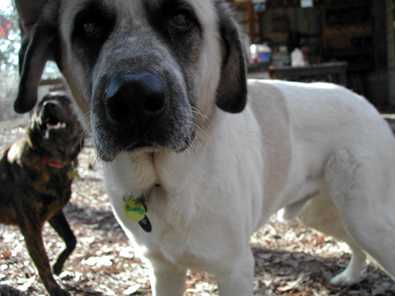 Although described as a pretty wonderful guy, the shelter was full and Wilson needed to move on. After a few weeks stay at the clinic, the National Anatolian Shepherd Rescue Network was called in the hope that they could help poor ol' Wilson. The clinic was full to it's limit and with limited room, Wilson was spending much of his days in "the little dog room" and is no "little dog".
'Lucky for Wilson the National Anatolian Rescue Network (NASRN) agreed to help out. NASRN is a nation wide rescue effort, but they do not maintain shelters, and rely on regional volunteers and organizations like DogsOnly to help them.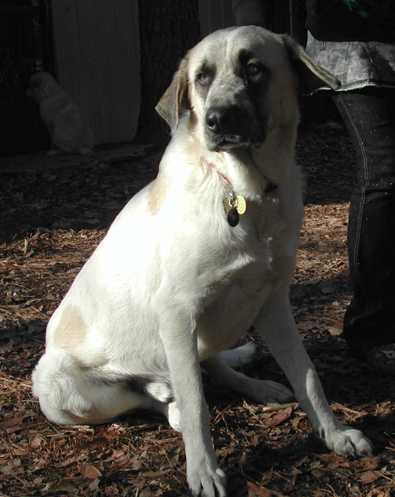 DogsOnly is known to take large breed canine companions, so it wasn't long before Wilson was on his way to Little Rock, thanks to some kind volunteers who agreed to transport Wilson to Arkansas at their own expense. Wilson is now safe and sound while DogsOnly looks for a new home for him. Wilson is a rare find of a companion and all he needs is a loving family who knows how to give a good hard ear and belly scratch and likes watching Hannah Montana..
The adoption fee is $125 and covers all necessary vet care to include: spay or neuter (mandatory - no exceptions), rabies, micro-chipping and registration, all vaccinations (including all puppy shots, rabies, adult boosters and Bordatella), grooming, Frontline for flea/tick preventative, heartworm check if age appropriate and preventative, collar and 50% of basic training classes.
The email contact to learn more about Wilson is contact@dogsonly.org
All of our young and adult dogs require a 2 week home visit before finalizing the adoption process. This is to help ensure it is a good match for all involved without making a final commitment. Puppies are not available to go on home visits. All of our rescues are in private homes and not available to be visited outside of showing times. All of our foster homes work with our rescues to ensure they are crate trained and most are also housetrained. None of our foster homes have cats, so we can only make our best guess as to how our rescues would do with cats.
We rescue from high kill shelters and once accepted into our program, none of our rescues are euthanized. We provide for all their vet care, socialization and training until an appropriate home can be found. We rely solely on donations and are a 501(c)3 Humane Society. The only support we receive is from donations from the general public.
Thank you for your interest in rescue and in saving the life of a dog. Every day in the United States, 11,000 dogs are euthanized.
Thank you for your interest in rescue and in saving the life of a dog. Every day in the United States, 11,000 dogs are euthanized.
If you can give a good ear scratch and belly rub, and like to lay around watching TV, Wilson might make the perfect addition to your family. You are invited to send an email to Contact@DogsOnly.org or complete an online adoption application by clicking the orange colored text links at the top or bottom of this page to learn more about adopting Buddy.
Please note that Wilson will not be adopted as a working dog.
Why Buy When You Can Save? Save a Rescued Dog.
If you don't find that special companion you are looking for in the DogsOnly rescue, rehabilitation, and re-home program then please visit Little Rock Animal Services, North Little Rock Animal Services, Sherwood Humane Animal Services, or one of the many other central Arkansas rescue organizations to save a rescued canine companion.