PAC-MAN was found wondering through a flowerbed, just sniffing about and checking everything out. Poor ol' Pac-Man was very thin and covered with ticks and fleas when his rescuers discovered this curious canine horticulturist wondering about the garden, but thanks to some patient care and attention, and oodles of love, Pac-Man has begun to gain weight and is tick and flea free. He still has a little ways to go, but with the right loving and caring family Pac-Man will soon be the picture of perfect health.
Pac-Man is a young male Hound Rhodesian Ridgeback mix, with just a little too much energy for the other two dogs in his foster home.
Pac-Man is running the other dogs in his foster home ragged. They don't have the energy to keep up. Plus, three dogs is a lot to have. His canine friends run about with Pac-Man until they fall down from exhaustion. He doesn't seem to know what "NO" means yet. He thinks it means "keep doing what your doing"!!!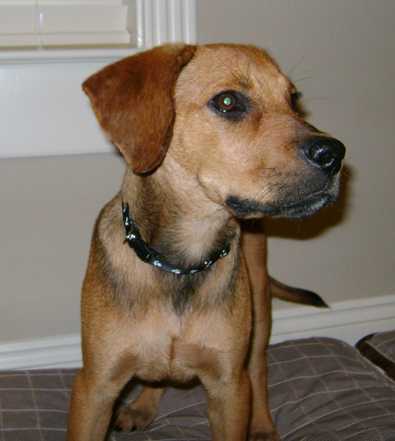 Pac-Man needs a fenced in yard so that he can run. He has a lot of energy that needs to be worked off before night time so that everyone can sleep soundly!! He will do best as an indoor/outdoor dog, and probably with a family that doesn't have small children, because he likes to jump and chew. He is a puppy so this is natural.
He loves to be given a belly rub!! He will fall over if your hand gets anywhere near his belly. He also likes to eat!! It doesn't matter what it is; If it resembles food it is going into his mouth. Since Pac-Man has been with his foster family, he doesn't like to get too far away from people.
He is overflowing with energy!! He is kept in a crate for a good portion of the day so that he can conserve his energy and gain some weight. By the afternoon, he is about to explode!!! He keeps the other dogs in his home busy!!!
He was given his Puppy shots on 08/29/08 by Springhill Spay & Neuter Clinic, and will be getting all of his booster shots. When he has gained enough weight, he will be altered. He will not be adopted intact.
His foster family is working on crate training, leash training, and house training. Crate and house training have been going really well. He doesn't seem to be food aggressive, but he sure does eat like it may be his last meal. Pac-Man needs a forever home. The vet said that August 27th, 2008 he is about 3 months old. He is current on his shots and will be neutered as soon as he puts on enough weight. Spots on his ears from the ticks should clear up soon. He is great with other dogs, but has tons of energy. He has not been around children but would probably do great if they can handle all the excitement!! He seems to be house trained as he lets his foster family know when he needs to go out. Pac-Man and his fosters are working on his crate training.
If you have further questions about Pac-Man you can contact Bandy at 501-231-0373 or by email at vetspet80@yahoo.com. You can also send an email to contact@dogsonly.org or complete an online adoption application by clicking the orange colored text links at the top or bottom of this page.
The adoption fee is $125 and covers all necessary vet care to include: spay or neuter (mandatory - no exceptions), rabies, microchipping and registration, all vaccinations (including all puppy shots, rabies, adult boosters and Bordatella), grooming, Frontline for flea/tick preventative, heartworm check if age appropriate and preventative, collar and 50% of basic training classes.
All of our young and adult dogs require a 2 week home visit before finalizing the adoption process. This is to help ensure it is a good match for all involved without making a final commitment. Puppies are not available to go on home visits. All of our rescues are in private homes and not available to be visited outside of showing times. All of our foster homes work with our rescues to ensure they are crate trained and most are also housetrained. None of our foster homes have cats, so we can only make our best guess as to how our rescues would do with cats.
We rescue from high kill shelters and once accepted into our program, none of our rescues are euthanized. We provide for all their vet care, socialization and training until an appropriate home can be found. We rely solely on donations and are a 501(c)3 Humane Society. The only support we receive is from donations from the general public.
Thank you for your interest in rescue and in saving the life of a dog. Every day in the United States, 11,000 dogs die.
Why Buy When You Can Save?
Save a Rescued Dog.
If you don't find that special companion you are looking for in the DogsOnly rescue, rehabilitation, and re-home program then please visit Little Rock Animal Services, North Little Rock Animal Services, Sherwood Humane Animal Services, or one of the many other central Arkansas rescue organizations to save a rescued canine companion.