Elton is beautiful and friendly little male Shepherd mix pup, Elton and his two brothers were discovered running lose as strays in Little Rock. Barely old enough .to survive on their own, these hapless little guys were hungry and frightened, and in desperate need of help.
It wasn't long before their hungry cries were noticed and Little Rock animal services had them in a cage bouncing their way down to the pound. Even if the pups didn't know it at the time, they things were starting to look up. At least now they would get some healthy food and clean cool water.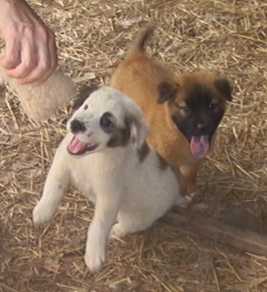 Unfortunately young pups like Elton are at greatest risk of all canine companions at the pound because they arrive unvaccinated in a confined environment where there is a real potential to contract disease. A visiting volunteer from DogsOnly spotted little Elton shivering from fear with his brothers, and before he knew what was happening, he was off to the vets office for a complete check up and then on to a safe foster home.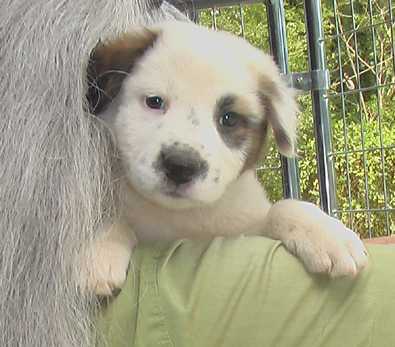 Elton will probably grow up to be a first-class canine companion of around 50 to 60 Lbs. However he is not for a family seeking an "easy" puppy, because there is no such thing. Please remember that as beautiful and cuddly as Elton is at the moment, he will grow into an adult canine companion in no time at all. You should also be prepared for the usual trial of rearing a young puppy including the chewing, crying, potty training, and constant demands. For this reason we would prefer that Elton's new guardians have experience with young puppies and understand their special needs. Remember, just like kids, puppies grow up real fast, and need lots of patience, love and attention along the way.
Typical of his breed, Elton is a maverick. The instant he picks up on something going on, he's on his way across the yard, tail wagging, and yapping for attention. He's not going to miss any opportunities for some fun and games. Elton gets along well with the other dogs in his foster home, and loves company.
The adoption fee is $125 and covers all necessary vet care to include: spay or neuter (mandatory - no exceptions), rabies, microchipping and registration, all vaccinations (including all puppy shots, rabies, adult boosters and Bordatella), grooming, Frontline for flea/tick preventative, heartworm check if age appropriate and preventative, collar and 50% of basic training classes.
The email contact to learn more about Elton is contact@dogsonly.org
For more innformation you can also complete an online adoption application by clicking the orange colored text links at the top or bottom of this page.
Due to time restraints, we are not able to accept phone calls outside of our showing times at (Sat & Sun 1-4) but we always try and answer all emails within 24 hours. All of our young and adult dogs require a 2 week home visit before finalizing the adoption process. This is to help ensure it is a good match for all involved without making a final commitment. Puppies are not available to go on home visits. All of our rescues are in private homes and not available to be visited outside of showing times. All of our foster homes work with our rescues to ensure they are crate trained and most are also housetrained. None of our foster homes have cats, so we can only make our best guess as to how our rescues would do with cats.
We rescue from high kill shelters and once accepted into our program, none of our rescues are euthanized. We provide for all their vet care, socialization and training until an appropriate home can be found. We rely solely on donations and are a 501(c)3 Humane Society. The only support we receive is from donations from the general public.
Thank you for your interest in rescue and in saving the life of a dog. Every day in the United States, 11,000 dogs die.
Why Buy When You Can Save?
Save a Rescued Dog.
If you don't find that special companion you are looking for in the DogsOnly rescue, rehabilitation, and re-home program then please visit Little Rock Animal Services, North Little Rock Animal Services, Sherwood Humane Animal Services, or one of the many other central Arkansas rescue organizations to save a rescued canine companion.