Alone, hungry, and scared Maya was heard crying in a field by her rescuers who couldn't just walk away and leave her. At the time she was about 8 wks old and would not have been able to survive on her own. It was obvious that Maya very grateful when she was picked up in that field, she clung to her rescuer and snuggled into his neck the whole way home.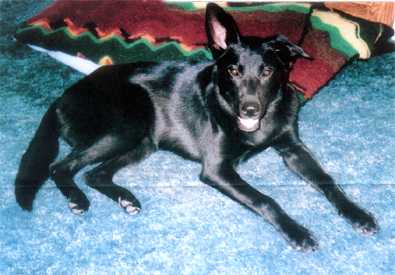 Maya is a female mixed breed puppy who was much too young to be left to fend for herself when she was found, but she has done well and thrives in her foster home. Maya is happy friendly youd canine who would do well with another young dog playmate. She's just as happy to be indoors as she is being outside.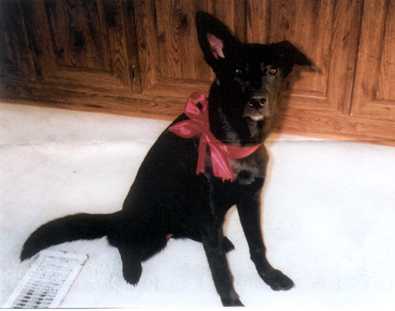 Maya is affectionate and playful with both her foster family and the other dogs in her foster home. She's not shy or aggressive but a happy medium. She loves to climb all over the dogs and chew on their ears and face and play tug of war. She likes to chase her little toy balls and likes her squeaky toys.
Maya attached easily to her foster family and seems to be a people dog. She's affectionate and will probably be a loyal dog.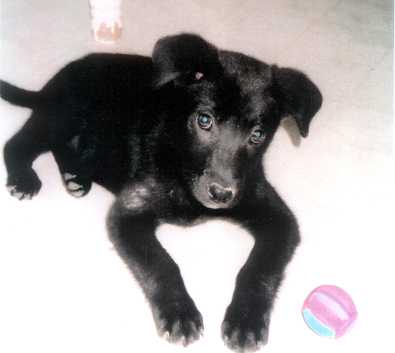 Maya just after she was rescued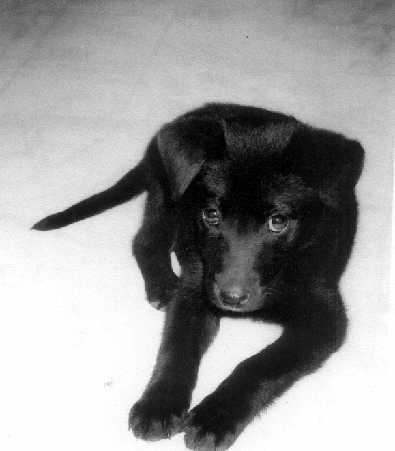 The adoption fee is $125 and covers all necessary vet care to include: spay or neuter (mandatory - no exceptions), rabies, microchipping and registration, all vaccinations (including all puppy shots, rabies, adult boosters and Bordatella), grooming, Frontline for flea/tick preventative, heartworm check if age appropriate and preventative, collar and 50% of basic training classes.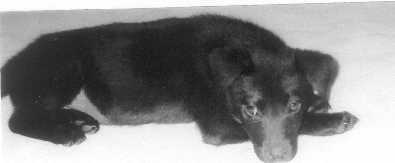 Maya is an independent rescue supported by DogsOnly, and you can contact Maya's recuer and foster home by sending an email to rita5z@aol.com You can also complete an online adoption application by clicking the links at the top or bottom of this page. Your application or emails will be sent to Maya's guardians without delay.

All of our young and adult dogs require a 2 week home visit before finalizing the adoption process. This is to help ensure it is a good match for all involved without making a final commitment. Puppies are not available to go on home visits. All of our rescues are in private homes and not available to be visited outside of showing times. All of our foster homes work with our rescues to ensure they are crate trained and most are also housetrained. None of our foster homes have cats, so we can only make our best guess as to how our rescues would do with cats.

We rescue from high kill shelters and once accepted into our program, none of our rescues are euthanized. We provide for all their vet care, socialization and training until an appropriate home can be found. We rely solely on donations and are a 501(c)3 Humane Society. The only support we receive is from donations from the general public.

Thank you for your interest in rescue and in saving the life of a dog. Every day in the United States, 11,000 dogs are euthanized.


Why Buy When You Can Save?
Save a Rescued Dog.
If you don't find that special companion you are looking for in the DogsOnly rescue, rehabilitation, and re-home program then please visit Little Rock Animal Services, North Little Rock Animal Services, Sherwood Humane Animal Services, or one of the many other central Arkansas rescue organizations to save a rescued canine companion.