Tinky is an independent rescue who was discovered lost and scared after a tornado had come through town. Neighbors of the family who rescued Tinky told them that Tinky had been under a car for days, so he may have been homeless for a while. Tinky's rescuers tried several avenues to track down his former owners, but they've heard nothing from them.
Tinky seems to be a Chihuahua mix. He's under ten pounds, six years old, and neutered. He's housebroken, and very sweet.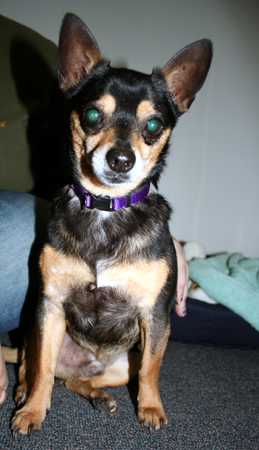 He's afraid of storms (possibly due to having been outside during a tornado), and when he hears the thunder boom outside or the winds whipping up a bad storm, he tends to shake, sometimes so badly that he can't stand up. He's also anxious about being left alone.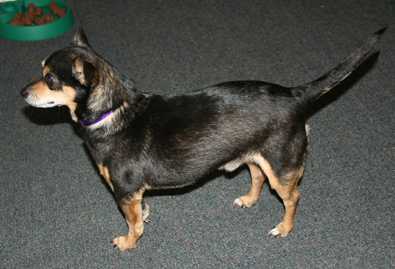 He's very sweet. He'll sometimes bark at strangers treading too close to his territory, but he's never acted out any aggression towards anyone during the time that he's been with his rescuers. He's a quiet lap dog who just wants to be loved.
Tinky's rescuers are looking for a quiet home for him, with someone who can spend a lot of time with him.
Tinky is an independent rescue and so tolearn more about Tinky you can send an email to his rescuers directly at quotelyricshere@yahoo.com or complete an online adoption application by clicking the orange colored text links at the top or bottom of this page. Due to time restraints, we are not able to accept phone calls outside of our showing times at (Saturday ONLY1-4), but we always try and answer all emails within 24 hours. All of our young and adult dogs require a 2 week home visit before finalizing the adoption process. This is to help ensure it is a good match for all involved without making a final commitment. All of our rescues are in private homes and not available to be visited outside of showing times.
All of our fosters work with our rescues to ensure they are crate trained and most are also housetrained. None of our fosters have cats in their homes so we can only make our best guess as to how our rescues would do with cats. We rescue from high kill shelters and once accepted into our Guest, none of our rescues are euthanized. We provide for all their vet care, socialization and training until an appropriate home can be found.
DogsOnly relies solely on donations and are a 501(c)3 private Humane Society. Our mission is to rescue dogs that most other groups are not interested in due to their size, breed, age, health or other various reasons. This does not mean that there is something wrong with any of our rescues, it just means we help the ones others tend to leave behind.
Thank you for your interest in rescue and in saving the life of a dog. Every day in the United States, 11,000 dogs die.
Why Buy When You Can Save?
Save a Rescued Dog.
If you don't find that special companion you are looking for in the DogsOnly rescue, rehabilitation, and re-home program then please visit Little Rock Animal Services, North Little Rock Animal Services, Sherwood Humane Animal Services, or one of the many other central Arkansas rescue organizations to save a rescued canine companion.