Booger, B-Man or Boog is a 2 to 3 year old lemon beagle who is neutered, up to date on shots and is well cared for (meaning a bit chubby!) Boog must find a home as his young caregiver doesn't have the time to care for him like she should. She is a young college student who is challenged for time and funds and though she loves B-Man dearly, she knows that he needs his own family.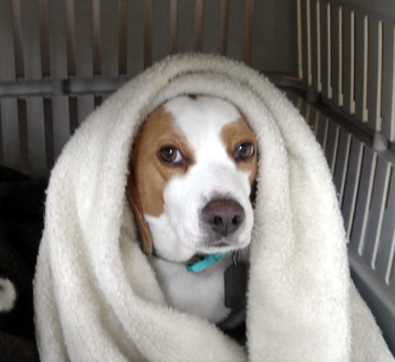 Booger is a bit shy with strangers but once he hears happy sounds coming from his people, he is all aglow with love and singing. He is gentle with people and was raised with cats and other dogs. Booger likes to chase the cats and other dogs! He really wants to be someone's loving lap dog.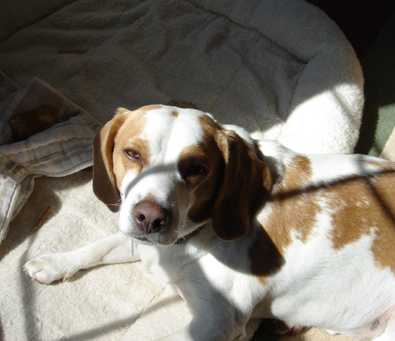 Boog is a house dog, housebroken, crate trained and really is an easy companion. He loves to go for walks and has not been on too many car rides so he gets a bit nervous. He is a beagle so he needs to be on a leash while outside or he will follow that nose to the ends of the earth-- they also have selective hearing when he is busy with something important! A fenced yard is a must for those trips to go potty but he wants to be where the action is so don't think he will be happy outdoors.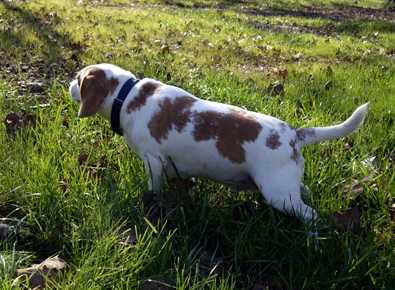 Yes, Boog will bay loudly when anyone knocks or rings the bell at the front door- again, he is a beagle! He is not a hunting dog nor a guard dog, this is your kid's best friend, your Grandmother's companion, your Mom's walking buddy --all rolled into one. He sleeps on the bed, lounges on the couch and will cuddle with you until you both fall asleep. He prefers to sleep UNDER the covers, too. He does know English and does not do well with loud or mad voices- sensitive guy. He is afraid of loud, fast moving little people and would do better with older, gentle kids or adults. He has no storm fears. This little guy loves deeply and will require a very special family!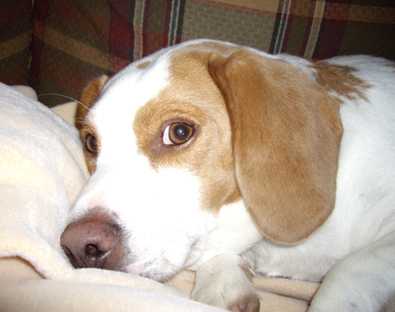 Booger is an independent rescue supported by DogsOnl;y, and so may not be attending the DopgsOnly adoption showings at on , but if you would like to be considered for caregiver of Boog, please contact Chris at 501-868-8394 or email ckbettis56@sbcglobal.net We will be interviewing adults and asking for a rescue donation. You may also complete an online adoption application by clicking the orange colored text links at the top or bottom of this page. Due to time restraints, we are not able to accept phone calls outside of our showing times at (Sat & Sun 1-4), but we always try and answer all emails within 24 hours.
All of our fosters work with our rescues to ensure they are crate trained and most are also housetrained. None of our fosters have cats in their homes so we can only make our best guess as to how our rescues would do with cats. We rescue from high kill shelters and once accepted into our Guest, none of our rescues are euthanized. We provide for all their vet care, socialization and training until an appropriate home can be found.
DogsOnly relies solely on donations and are a 501(c)3 private Humane Society. Our mission is to rescue dogs that most other groups are not interested in due to their size, breed, age, health or other various reasons. This does not mean that there is something wrong with any of our rescues, it just means we help the ones others tend to leave behind.
Thank you for your interest in rescue and in saving the life of a dog. Every day in the United States, 11,000 dogs die.
Why Buy When You Can Save?
Save a Rescued Dog.
If you don't find that special companion you are looking for in the DogsOnly rescue, rehabilitation, and re-home program then please visit Little Rock Animal Services, North Little Rock Animal Services, Sherwood Humane Animal Services, or one of the many other central Arkansas rescue organizations to save a rescued canine companion.