Sergeant is a stunning young German Shepherd who found sanctuary with a family after he was dumped and left to fend for himself. He seems to get along well with the children in his temporary foster home, and also appears to like the companionship of other dogs.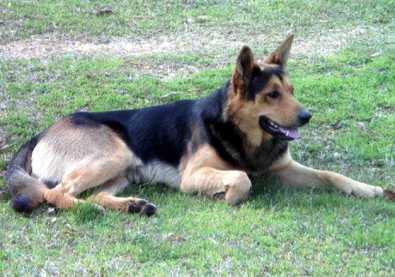 The family that took Sergeant into their home is trying to help him to find him a new permanent and loving home. Sergeant is still a little unsure of what to expect, but he learn quickly, and just needs a home and family with the time, patience, and love to help him recover his confidence.
If you would like to learn more about Sergeant, you are invited to send an email to contact@dogsonly.org or complete an online adoption application by clicking the orange colored text links at the top or bottom of this page.
Sergeant is an independent rescue effort and as such may not be available to meet at the DogsOnly adoption showings every Sat and Sun at the West Little Rock on across from Target and Home Depot from 1-4. It is recommended that you call the before you come to visit Sergeant to make sure that he is still available for adoption and is at the store. Please call during our showing hours only at 501-219-9907 as the store employees are not always aware on the availability of our rescues.M
DogsOnly relies solely on donations and is a 501(c)3 Humane Society. Our mission is to rescue dogs that most other groups are not interested in due to their size, breed, age, health or other various reasons, and to provide education resources for dog owners and those with an interest in the wellbeing of dogs. DogsOnly believes that no dog should be left behind.
Thank you for your interest in rescue and in saving the life of a dog. Every day in the United States, 11,000 dogs die.
Why Buy When You Can Save?
Save a Rescued Dog.
If you don't find that special companion you are looking for in the DogsOnly rescue, rehabilitation, and re-home program then please visit Little Rock Animal Services, North Little Rock Animal Services, Sherwood Humane Animal Services, or one of the many other central Arkansas rescue organizations to save a rescued canine companion.