Duke is a handsome Lab Weimaraner who's looking for a new home. After living with two other dogs for a year it looks like The Green Eyed Monster has shown up, and poor ol' Duke is out numbered two to one.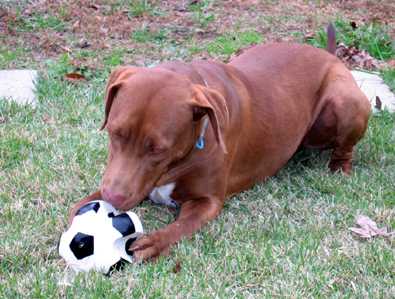 Duke needs a home where he is the only dog. Although he seems to do well with some dogs, it is still recommended that he be the only dog in the home. He also would like to have a family who loves to play ball as much as he does. He loves to play ball for hours. As long as you want to throw it, he will go retrieve and bring back to you. When inside the house, he enjoys laying next to the couch and taking a nap. Duke is a very loyal, loving, and friendly dog. He will stay by your side constantly.
Duke is crate trained, house trained, does well on a leash, and knows his basic commands. He has been altered, and has had regular checkups at the vets.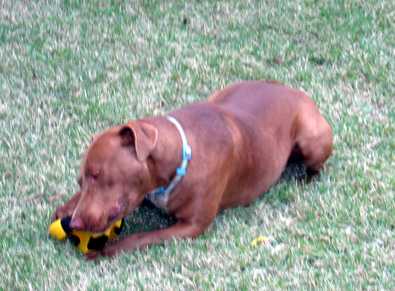 If you would like to learn more about Duke, you are invited to send an email to his owners at misenheimer@aristotle.net or complete an online adoption application by clicking the orange colored text links at the top or bottom of this page.
Duke is currently staying with Dr. Peck at Doubletree Vet Clinic. The staff has fallen in love with him. You can call Dr. Peck's staff and speak with them about Duke at 501-821-1880
Duke is an independent rescue effort and as such will not be be available to meet at the DogsOnly adoption showings every Sat and Sun at the West Little Rock on across from Target and Home Depot from 1-4.
DogsOnly relies solely on donations and is a 501(c)3 Humane Society. Our mission is to rescue dogs that most other groups are not interested in due to their size, breed, age, health or other various reasons, and to provide education resources for dog owners and those with an interest in the wellbeing of dogs. DogsOnly believes that no dog should be left behind.
Thank you for your interest in rescue and in saving the life of a dog. Every day in the United States, 11,000 dogs die.
Why Buy When You Can Save?
Save a Rescued Dog.
If you don't find that special companion you are looking for in the DogsOnly rescue, rehabilitation, and re-home program then please visit Little Rock Animal Services, North Little Rock Animal Services, Sherwood Humane Animal Services, or one of the many other central Arkansas rescue organizations to save a rescued canine companion.