Boo Boo is a large mature Siberian Husky whose owner died. He is living in a foster home, but his foster guardian's dog has decided that he doesn't like having Boo Boo around.
Boo Boo has lived with other dogs and cats in the past but he is a calmer, nicer dog when he's the only pet around. He is a loving and happy guy, but he tends to get excitable and nervous around loud noises and new people. He can be jealous around other dogs, and possessive around food and bones. He makes a good watch dog.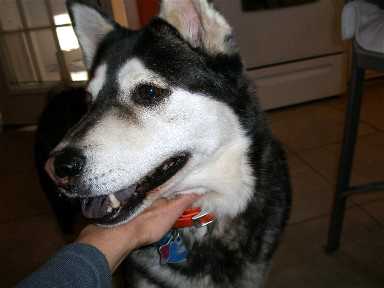 Boo Boo likes being taken for walks, runs, and rides in the car. He also likes being brushed, loves curling up on his dog bed, and most of all loves being petted.
Boo Boo would do best as the only dog where he can be both indoors and outdoors. He needs a fenced yard, and, very importantly daily walks or runs. Boo Boo is a husky at heart so he needs a secure environment where he cannot escape to run freely.
Boo Boo is housetrained, and does well on a leash. He has been altered, and needs to eat high quality dog food to avoid skin allergies. He has been treated for an irritated tracheal cough. He still coughs occasionally but he isn't sick.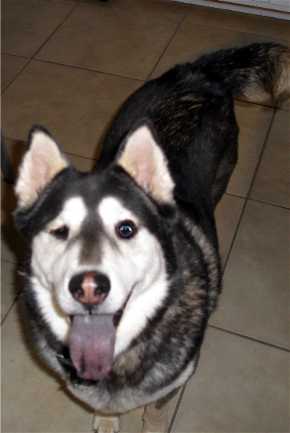 If you would like to learn more about Boo Boo, you are invited to send an email to his foster at debra.milam@lrsd.org or complete an online adoption application by clicking the orange colored text links at the top or bottom of this page. Boo Boo is an independent rescue effort and as such will not be be available to meet at the DogsOnly adoption showings every Sat and Sun at the West Little Rock on across from Target and Home Depot from 1-4.
DogsOnly relies solely on donations and is a 501(c)3 Humane Society. Our mission is to rescue dogs that most other groups are not interested in due to their size, breed, age, health or other various reasons, and to provide education resources for dog owners and those with an interest in the wellbeing of dogs. DogsOnly believes that no dog should be left behind.
Thank you for your interest in rescue and in saving the life of a dog. Every day in the United States, 11,000 dogs die.
Why Buy When You Can Save?
Save a Rescued Dog.
If you don't find that special companion you are looking for in the DogsOnly rescue, rehabilitation, and re-home program then please visit Little Rock Animal Services, North Little Rock Animal Services, Sherwood Humane Animal Services, or one of the many other central Arkansas rescue organizations to save a rescued canine companion.