Meet Shiloh, she is one sweet girl. We are not sure of her past but we can piece together some of it based on what we know about her now. We know she is about 3 years old and she was spayed at a young age and has never had puppies. So at one point, some one cared about her and took care of her. She is also heartworm negative so she most likely was on heartworm preventative. Shiloh ended up in a high kill shelter in Arlington, Texas after a long attempt to catch her. She was living on her own, fending for herself and finding her own way and food until she was captured.
Shiloh's pictures do not do her justice. She is absolutely gorgeous with a luxurious coat that is mainly a golden brown (it looks more cream/white in the photos but it is not) with her beautiful black mask. She is so sweet and loving but she has obviously fallen on hard times recently. She is extremely shy and might do well in a female home. She seems more anxious around men but will accept females fairly easily. Also, she is easily startled so she would probably appreciate a quiet home and relaxed environment. She could probably be introduced to other dogs in a home slowly, but would may not accept them immediately as she seems to feel intimidated.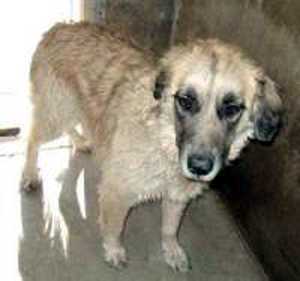 We are guessing that Shiloh probably had a wonderful home as a young girl and then was either given away or lost from her home and fell on hard times. She rides exceptionally well in a car and also does well in her crate. She is startled by things outside in her yard. She may need a little work on housetraining so she would do best with some one who is patient and has tile/wood/vinyl floors so she can be easily corrected and trained. Once she accepts you, she will paw at you for scratches and attention.
Shiloh is completely vetted including spay, rabies, all vaccinations, Bordatella, micro-chipping and negative fecal. All she needs at this point is a bath at this point. She had to have a little trimming on her beautiful skirt as it was heavily matted. She will make a very loyal and loving companion once she learns to trust her new family. Shiloh needs a home that can commit to her for her life as it would destroy her to lose another home. It would just not be fair to Shiloh to have to change homes so please make sure you are committed to a life adoption.
Shiloh's adoption fee is $125 and covers all necessary vetting. Shiloh will NOT be attending our adoption showings at , but you can call for more information about her during our showing times. Adoption showings are every Sat & Sun at the West Little Rock on across from Target and Home Depot from 1-4. We do not show on holiday weekends. Also, you may want to call the store to make sure that Shiloh is still available. Please call during our showing hours at 501-219-9907 as the store employees are not always aware on the availability of our rescues. The email address to enquire about Shiloh is contact@dogsonly.org, oryou can complete an online adoption application by clicking the orange colored text links at the top or bottom of this page.
Due to time restraints, we are not able to accept phone calls outside of our showing times at (Sat & Sun 1-4), but we always try and answer all emails within 24 hours.
All of our young and adult dogs require a 2 week home visit before finalizing the adoption process. This is to help ensure it is a good match for all involved without making a final commitment. Puppies are not available to go on home visits. All of our rescues are in private homes and not available to be visited outside of showing times. All of our fosters work with our rescues to ensure they are crate trained and most are also housetrained. None of our fosters have cats in their homes so we can only make our best guess as to how our rescues would do with cats. We rescue from high kill shelters and once accepted into our program, none of our rescues are euthanized. We provide for all their vet care, socialization and training until an appropriate home can be found.
DogsOnly relies solely on donations and is a 501(c)3 Humane Society. Our mission is to rescue dogs that most other groups are not interested in due to their size, breed, age, health or other various reasons, and to provide education resources for dog owners and those with an interest in the wellbeing of dogs. DogsOnly believes that no dog should be left behind.
Thank you for your interest in rescue and in saving the life of a dog. Every day in the United States, 11,000 dogs die.
Why Buy When You Can Save?
Save a Rescued Dog.
If you don't find that special companion you are looking for in the DogsOnly rescue, rehabilitation, and re-home program then please visit Little Rock Animal Services, North Little Rock Animal Services, Sherwood Humane Animal Services, or one of the many other central Arkansas rescue organizations to save a rescued canine companion.