Gizzie is a female dachshund mix approximately 3 years old and about 20 - 25 pounds. She is house trained. She behaves well in her foster home other than getting on the furniture. She is a house dog ONLY! Gizzie absolutely LOVES to play fetch with her ball. She also likes to catch the ball in the air and will sometimes catch it with her front legs. She does like to use her voice during play time. She likes to get in your lap and in the bed with you. She loves to go for car rides. Gizzie is the type of dog that would go camping and boating with you.
Gizzie just met her first cat and was afraid of him, but now will chase him sometimes.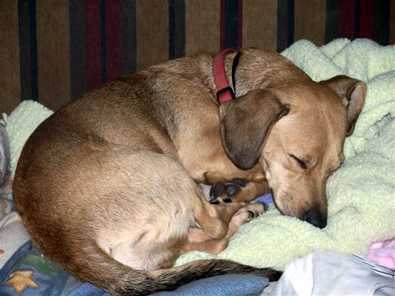 Gizzie would not be good with children under 5 yrs old. She is a little to much for her rescuer's toddler, but they do play well together.
When Gizzie arrived in her foster home, she was very hyper but after a couple of days she settled down nicely. She is still an active dog and not one that will be happy in a home that is inactive.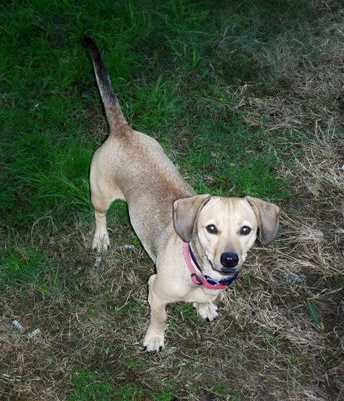 Gizzie's owner loved her VERY much. Apparently she went everywhere with her guardian. She was his very best friend. Her owner passed away suddenly and Gizzie was alone in the home for 5 days watching over him.
Gizzie is spayed, up to date on vaccinations, on heartworm preventative and micro chipped.
A secure fenced yard and home visit is required. There are no exceptions.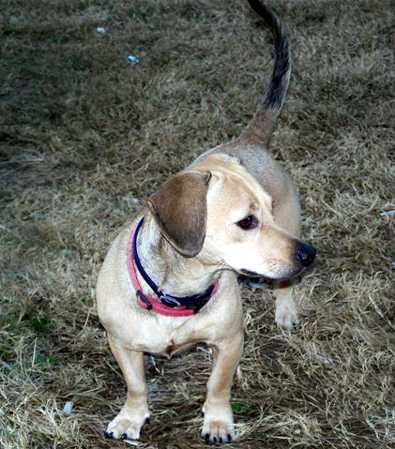 Gizzie's's adoption fee is $125. Gizzie is an independent rescue effort and so may not be attending the DogsOnly adoption showings at the WLR on across from Target and Home Depot from 1-4.
If you would like to learn more about Gizzie, you are invited to send an email to her rescuer at manda@iocc.com or complete an online adoption application by clicking the orange colored text links at the top or bottom of this page.
If you don't find that special companion you are looking for in the DogsOnly rescue, rehabilitation, and re-home program then please visit Little Rock Animal Services, North Little Rock Animal Services, Sherwood Humane Animal Services, or one of the many other central Arkansas rescue organizations to save a rescued canine companion.