Punkin is a 10 week old Australian Shepherd Chow Chow mixed puppy who was abandoned on the steps of an Exterminator's business. Punkin was taken inside and brought to rescue; even an exterminator has a heart!
As it turns out Punkin is a feisty little pup with more energy than a bucket full of Red Bull. When she's not speeding about like a Union Pacific locomotive, Punkin can be extremely loving and sweet... as Punkin Pie. Currently at about 9 pounds she will most likely grow to about 35 to 40 pounds as an adult. Punkin is smart as a whip and is already crate trained.
Punkin loves to run and herd her people so she is not recommended for a home with small children. She is also a little mouthy and will need some one with time and patience to help her learn how to be a good girl, and not grab onto your arm and hang wriggling upside until she gets tired and drops off.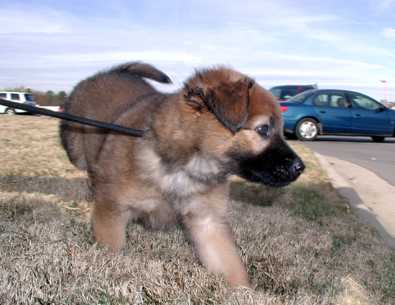 Punkin's adoption fee is $125 and covers all of her immediate medical needs to include: spay, rabies, micro-chipping, all vaccinations (4 rounds of shots and a Bordatella vaccination), grooming, heartworm preventative, Frontline and 50% towards basic training classes at an approved school.
You can meet Punkin Pie at the West Little Rock on across from Target and Home Depot every Sat & Sun from 1-4 (except holiday weekends). Please call 501.219.9907 before coming to the store to make sure that she is still available for adoption. If possible you should call during our showing hours as the staff at are not always aware of which dogs will be available for adoption.
If you have room in your home for a fun loving and energetic little pup like Punkin, she just might be the canine companion you have been looking for. If you would like to learn more about PUNKIN PIE, you are invited to send an email to Contact@DogsOnly.org or complete an online adoption application by clicking the orange colored text links at the top or bottom of this page.
All of our young and adult dogs require a 2 week home visit before finalizing the adoption process. This is to help ensure it is a good match for all involved without making a final commitment. Puppies are not available to go on home visits. All of our rescues are in private homes and not available to be visited outside of showing times. All of our fosters work with our rescues to ensure they are crate trained and most are also housetrained. None of our fosters have cats in their homes so we can only make our best guess as to how our rescues would do with cats. We rescue from high kill shelters and once accepted into our program, none of our rescues are euthanized. We provide for all their vetcare, socialization and training until an appropriate home can be found. We rely solely on donations and are a 501(c)3 private Humane Society. Our mission is to rescue dogs that most other groups are not interested in due to their size, breed, age, health or other various reasons. This does not mean that there is something wrong with any of our rescues, it just means we help the ones others tend to leave behind. Thank you for your interest in rescue and in saving the life of a dog. Every day in the United States, 11,000 dogs die. Why Buy When You Can Save???????? Save a Rescued Dog.
If you don't find that special companion you are looking for in the DogsOnly rescue, rehabilitation, and re-home program then please visit Little Rock Animal Services, North Little Rock Animal Services, Sherwood Humane Animal Services, or one of the many other central Arkansas rescue organizations to save a rescued canine companion.