ET is one very special little puppy. Found wandering on the side of the road where he had lived, scrounging for food and fending for himself, ET was too scared and tired to run. His rescuer took ET to a vet clinic where he got a checkup and some necessary immediate medical care. Surprisingly, ET's rescuer never returned to pick him up or to pay his bill. All poor ET could do was to sit in a cage, penniless, and worry about how he was going to pay the bill.
Lucky for ET, a kind Samaritan learned of his plight, and took him home. Things were starting to look up for little ET; lots of love, hugs, kinds words, good food, clean water, and no big vet bill to worry about.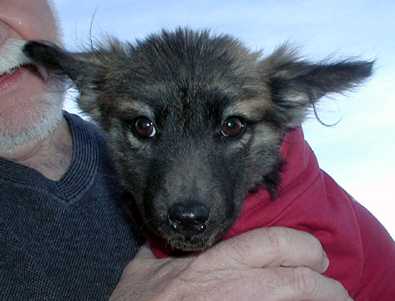 Unfortunately, this was not yet to be ET's happy ending. His foster parent's landlord found out that ET had moved in, and ordered him to leave; "No pet policy, no ET"
Poor E.T. soon found himself at the pound, but ET caught a cold and ended up in the clinic for several weeks. Eventually E.T. felt well enough to leave the shelter, only this time he was sent to DogsOnly rescue where it was discovered that E.T. wasn't a small mixed breed puppy with a funny large head at all, ET is a 6 month old German Shepherd who only weighed 7.4 pounds and most likely has Pituitary Dwarfism – with a funny large head.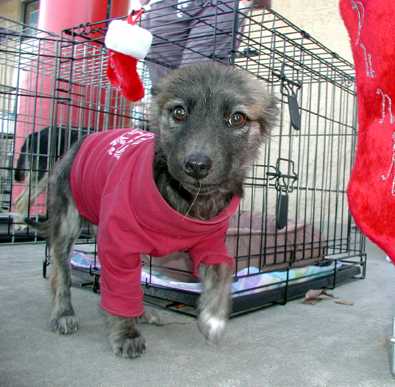 When ET was first rescued, he was loaded with parasites which prevented him from developing properly, which in turn only made him much smaller for his breed and age than he should be. Most Pituitary Dwarfism dogs are German Shepherds and weigh 20-30 pounds when full grown. It is very unlikely that ET will get this large due to his history and will most likely only be about 12-15 pounds. Pituitary Dwarfism is a congenital genetic condition and is similar to Dwarfism in humans. There is no treatment for his condition and the effects are usually a shortened life span.
ET is an particularly gentle and loving canine companion. He loves to spend time in your lap and needs some one to adopt him who will love him and have lots and lots of time and patience for him. It is common for Pituitary Dwarfism dogs to not develop mentally like adult dogs so he may never be completely housetrained. He is very clean in his kennel and when he does have an accident, he neatly covers it up so not to make a mess. He will also most likely never develop his adult hair coat and adult dog bark. Pituitary Dwarfism dogs can be described as puppies who never grown up, physically and mentally. For this reason, he needs a very special family.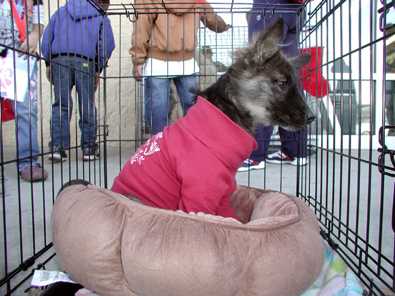 ET loves people and other dogs. He can be a little shy when first meeting you. He will be neutered in a few months. This is because he has retained his puppy teeth (so right now he has two sets of teeth) and may need to have his baby teeth pulled when he gets neutered. We want to give him a chance for his teeth to come out naturally versus having them pulled. We do not recommend small children in the home with ET He is too small and could be easily injured by children who do not understand how to properly interact with such a tiny dog.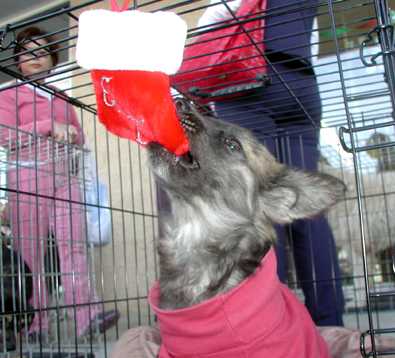 ET's adoption fee is $125 and covers all necessary vetcare to include: spay or neuter, rabies, microchipping and registration, all vaccinations (including all puppy shots, adult boosters and Bordatella), grooming, Frontline for flea/tick preventative, heartworm check if age appropriate and preventative, collar and 50% of basic training classes. Adoption showings are every Sat & Sun at the West Little Rock on across from Target and Home Depot from 1-4. We do not show on holiday weekends. Also, you may want to call the store before you come to visit him to make sure that ET is still available for adoption. Please call during our showing hours at 501-219-9907 as the store employees are not always aware on the availability of our rescues. Due to time restraints, we are not able to accept phone calls outside of our showing times at (Sat & Sun 1-4), but we always try and answer all emails within 24 hours.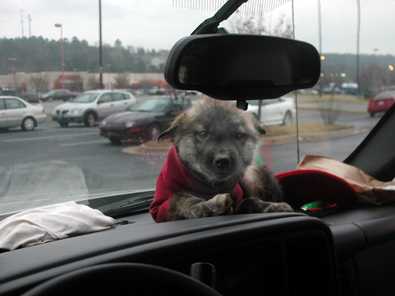 If you would like to learn more about ET, you are invited to send an email to Contact@DogsOnly.org or complete an online adoption application by clicking the orange colored text links at the top or bottom of this page.
All of our young and adult dogs require a 2 week home visit before finalizing the adoption process. This is to help ensure it is a good match for all involved without making a final commitment. Puppies are not available to go on home visits. All of our rescues are in private homes and not available to be visited outside of showing times. All of our fosters work with our rescues to ensure they are crate trained and most are also housetrained. None of our fosters have cats in their homes so we can only make our best guess as to how our rescues would do with cats. We rescue from high kill shelters and once accepted into our program, none of our rescues are euthanized. We provide for all their vetcare, socialization and training until an appropriate home can be found. We rely solely on donations and are a 501(c)3 private Humane Society. Our mission is to rescue dogs that most other groups are not interested in due to their size, breed, age, health or other various reasons. This does not mean that there is something wrong with any of our rescues, it just means we help the ones others tend to leave behind. Thank you for your interest in rescue and in saving the life of a dog. Every day in the United States, 11,000 dogs die. Why Buy When You Can Save???????? Save a Rescued Dog.
If you don't find that special companion you are looking for in the DogsOnly rescue, rehabilitation, and re-home program then please visit Little Rock Animal Services, North Little Rock Animal Services, Sherwood Humane Animal Services, or one of the many other central Arkansas rescue organizations to save a rescued canine companion.