Smiley is a happy bright eyed and friendly young Bloodhound Yellow Lab mix who miraculously survived being shot when he was only 8 to 10 weeks old.
It's hard to say exactly what the circumstances might have been that exposed a 10 week old puppy to such horrendous and brutal violence, but somehow little Smiley survived.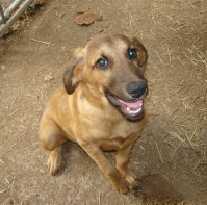 Even though by the time Smiley arrived at DogsOnly he had already made remarkably progress in recovering form his injuries, he was taken straight to the vet to see what might need to be done. It turns out that the bullet had passed right through Smiley, but that it had shattered some bone along the way. At this point there's not much to be done, except to make sure Smiley gets all the love and care he needs and deserves.
It will take still more time for Smiley to fully recover, and at this point it's not known if he will always walk with a limp, but it doesn't stop Smiley from romping and playing with the other dogs in his foster home. Despite everything he has endured, Smiley remains friendly and sweet. He greets everyone he meets with an enthusiastic tail wag and his signature big warm smile.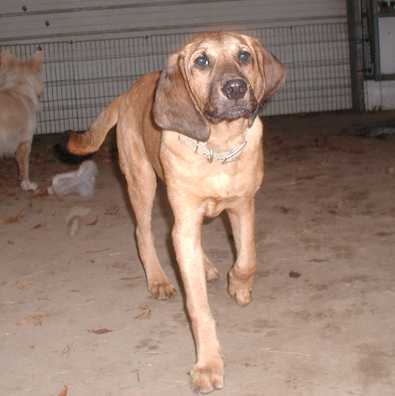 Smiley is now about 6 to 7 months old and outside of the injuries he sustained from the gun shot, Smiley received a clean bill of health from the vet. You can meet Smiley and get a big warm smile at the west Little Rock on across from Target and Home Depot every Sat and Sun from 1:00 PM to 4:00 PM except holiday weekends. Please be sure and call (501-219-9907) before you come to visit him to make sure that he is still available for adoption.
Smiley has received a complete medical evaluation, all shots, rabies, fecal and worming medication, flea/tick preventative, heartworm preventative, micro-chipping, grooming, and has been altered. If you need a medium sized and friendly companion with a famous smile, Smiley might be the canine companion you have been looking for. If you would like to learn more about Smiley, you are invited to send an email to Contact@DogsOnly.org or complete an online adoption application by clicking the orange colored text links at the top or bottom of this page.
If you don't find that special companion you are looking for in the DogsOnly rescue, rehabilitation, and re-home program then please visit Little Rock Animal Services, North Little Rock Animal Services, Sherwood Humane Animal Services, or one of the many other central Arkansas rescue organizations to save a rescued canine companion.